8 Ways to Save Money on a Home Renovation
What are the three words that strike fear in the hearts of homeowners planning a renovation? "Might as well." Yes, this is the renovation nightmare that can turn your project out of control and drive up your costs . Whether a small glow-up or a gut-job, we've pulled together our top 8 tips for saving money and navigating your renovation with confidence.
5. Take Your Time

Once all the numbers are put into the budget, you may discover that you need to take a phased approach to your renovation, beginning with 1-2 rooms at a time. While the urge might be to check off all the items on your wish list, there are many less expensive upgrades and high-quality enhancements that can make your house look and feel fresh, such as a new bathroom sink, toilet, and fixtures (discover how to choose your faucets
here
).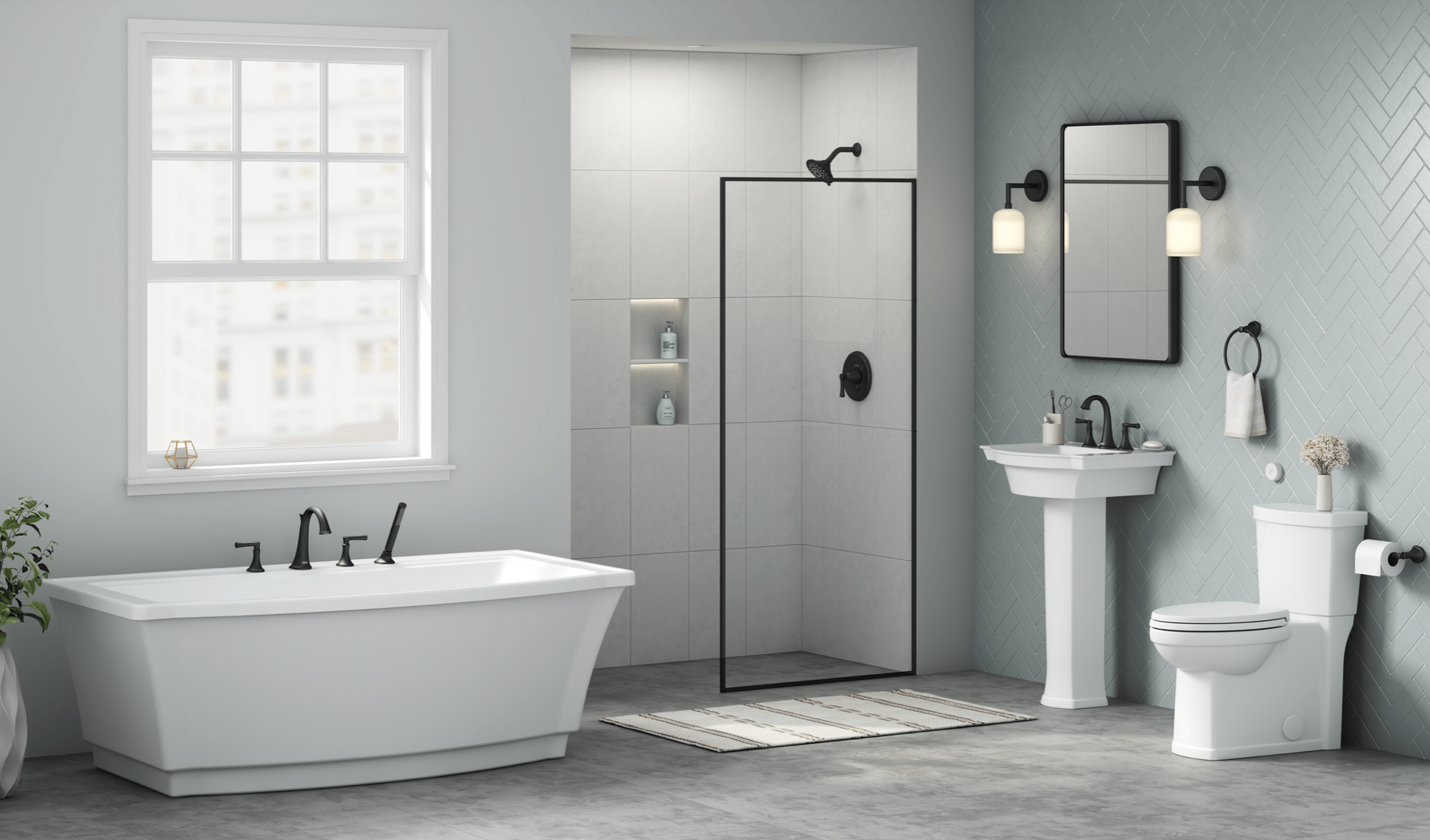 6. Consider Long-Term Savings
Looking for a return on your investment? Think about installing water-saving faucets, toilets, and showers that will not only help save on your utility bills but will also help the environment. American Standard's collection of high-performance plumbing fixtures are highly recommended for their power, efficiency, and beautiful design. Choosing timeless designs can save you money in the long run, such as the classic design of American Standard's
Estate Collection
, a bathroom lineup that will remain an elegant and timeless centerpiece in your home.
7. Choose Materials Wisely

There are so many different materials and finishes to choose from. In looking at new materials, consider lookalikes, products that give the same feel as the aspirational one, but fall within the budget. As well, how you finish something will affect the cost, such as opting for the less expensive option of painting versus tiling. If you're going to reuse materials already in your home, as mentioned, paint and hardware can go a long way, and, whatever you aren't using, consider listing it for sale or donating to an organization such as
Habitat for Humanity
.
8. Mix High and Low

When trying to save money, it's key to consider the idea of balance. What's going to give you the biggest bang for your buck? For example, in the shower area, why not use low-cost tiles on the walls and then splurge a bit on the smaller shower floor? Or in the kitchen, purchase inexpensive cabinetry but spend on high quality work surfaces that add a luxurious feel and stand-up to everyday wear and tear. As well, your hardware and
faucets
are the jewels of the home and are easy ways to elevate any space. A matte black faucet like the
Lez Single Hole Bathroom Faucet
or a high-tech fixture like the
Avery Touchless Pull-Down Kitchen Faucet
, instantly add interest and style with a simple update.
Doing a renovation can be a stressful and costly undertaking, but with a wide array of high-performing, well-designed, and long-lasting plumbing fixtures and faucets, American Standard is here to help simplify and beautify your home. To learn more, visit us
here
.

Learn More from American Standard