Discover Your Kitchen Aesthetic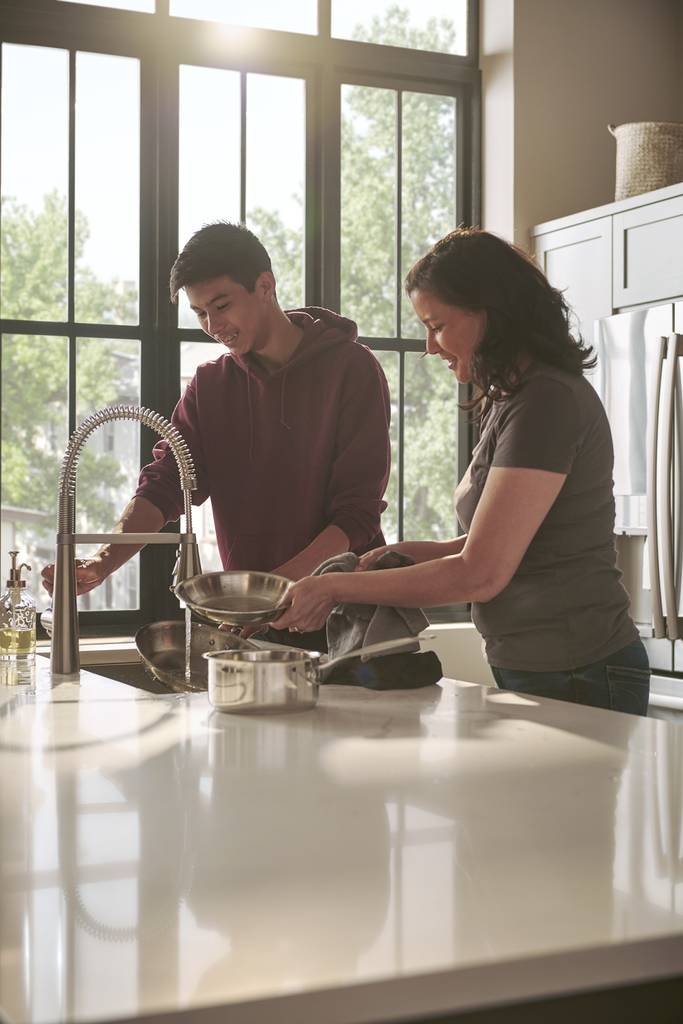 The kitchen is the heart of the home. It's where people gather and create, where there is feeding and eating, and where the bustle of the day often comes to an end. Designing your kitchen is a personal experience and before you start, you need to ask yourself a number of questions to ensure you create a space that is both beautiful and functional, one that will meet all your lifestyle needs and design desires.
These considerations include:

What's my personal style?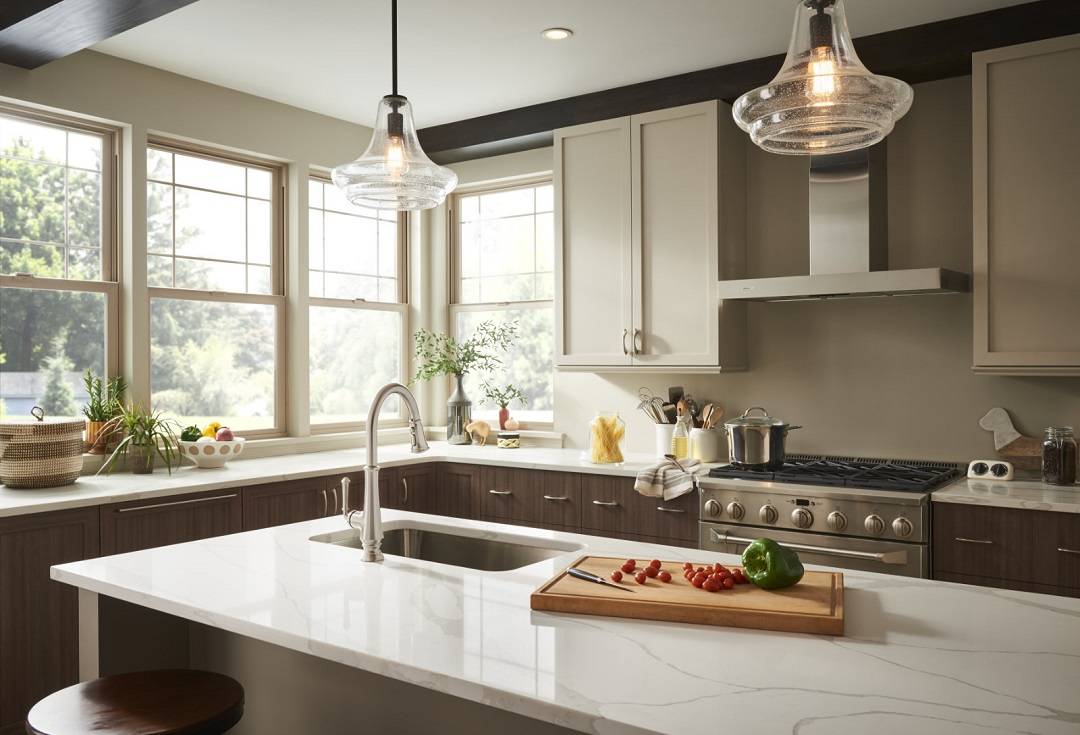 Classic & Traditional

Traditional kitchens are timeless, often crafted in stained woods like oak, maple or walnut, and beautifully patterned stone. Noted for their craftsmanship and elegance, the traditional kitchen style is often ornate, full of dimension and details. Design elements include natural materials, classic stains and colours, crown moulding, custom hoods and decorative lighting.
Traditional styling doesn't mean that you need to sacrifice functionality and technology. The
Delancey Pull-down kitchen faucet
features a timeless design that fits perfectly in a traditionally styled kitchen and offers a three function pull-down sprayer: stream, spray, and pause. It also comes in bar faucet to complete the look.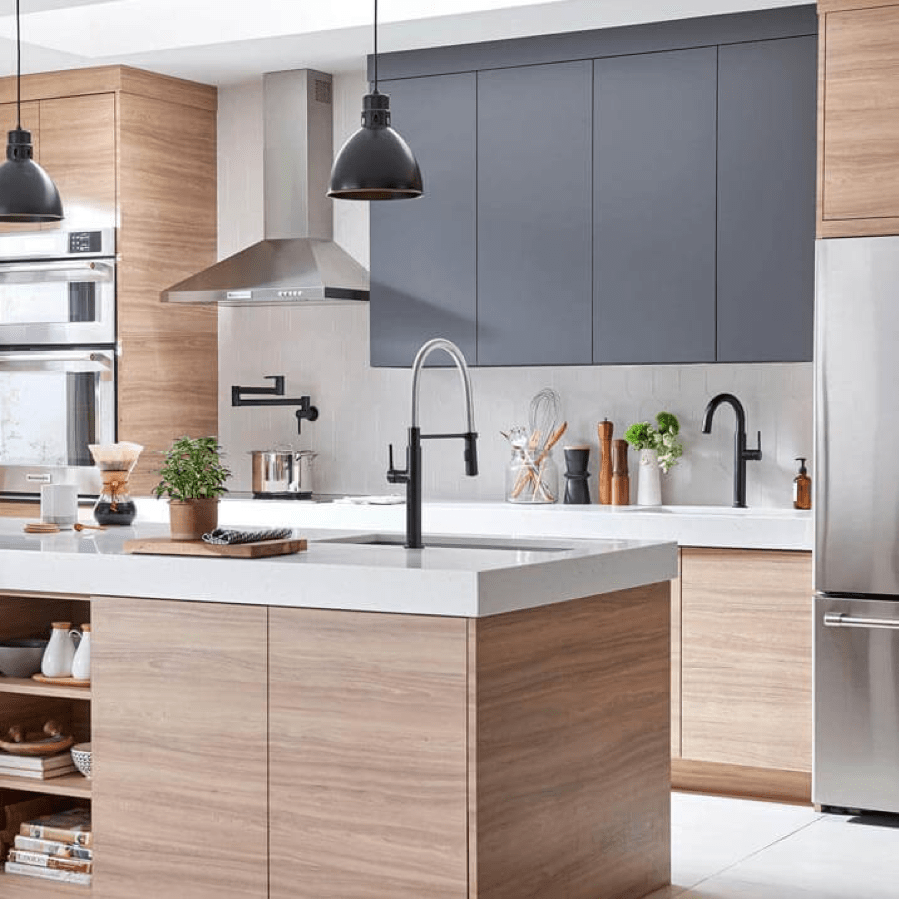 Modern Minimalism

Simplicity, clean lines and a stylish aesthetic are the best ways to describe modern design. Modern kitchens are cleverly designed, clutter-free spaces, with a focus on functionality, technology, and the paring down of design elements to the bare minimum. Design elements can include subtle and muted colours, and materials such as glass, metal and wood. With its sleek, urban, design and high-performance features, the
Studio S Collection
is a great example of a modern kitchen collection that not only makes life easier but also adds distinct visual appeal. Available in a variety finishes and styles, Studio S faucets are WaterSense Certified and have both pull down and pull out options along with multiple spray patterns.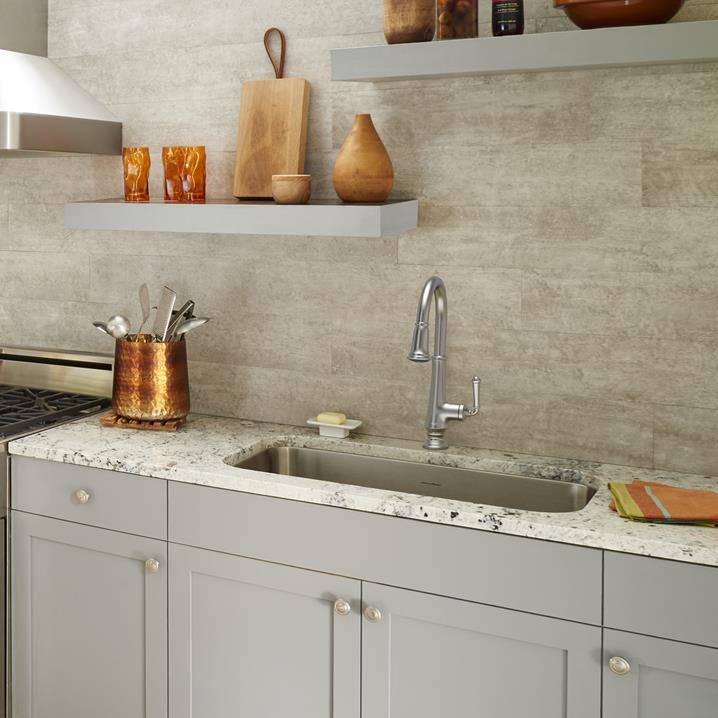 Transitional (aka The Best of Both Worlds)

Transitional style blends the comfort and warmth of traditional, classic designs, with the clean profiles and neutral colours of contemporary style. Transitional is often described as elegant, streamlined, harmonious, and versatile. Design elements can include subtle colours, marble or quartz countertops, natural wood accents, clean-lined accessories and furniture. When designing your kitchen, focus on design features that make your home more efficient for daily living.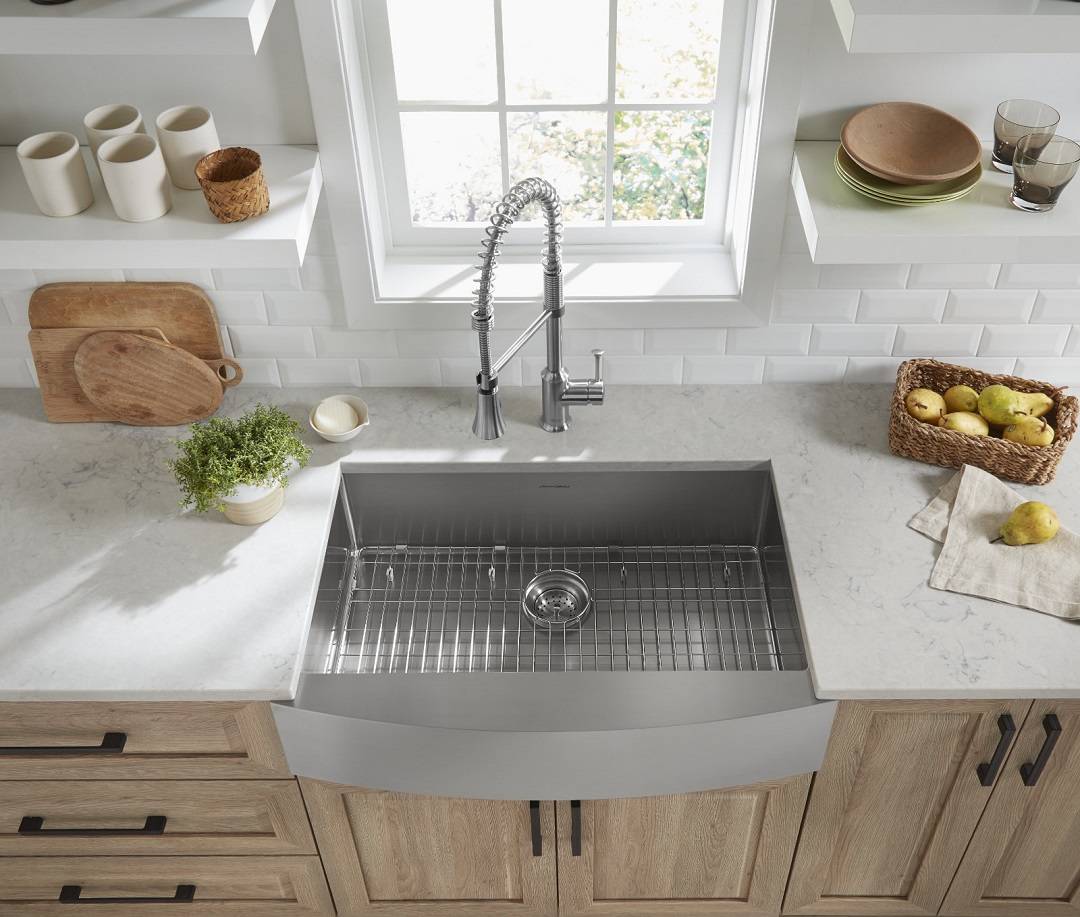 Countryside Charm

Inviting and cozy, this design aesthetic has a rustic feel, characterized by warm colours, exposed wood beams, and a mix of metals. Design elements often include black or bronze hardware, open or glass-fronted shelving, and handcrafted items made of rich wood, leather, wicker and wrought iron.
An apron front sink
can add a statement to the kitchen, while providing modern day functionality.
How can my kitchen work smarter for me?

•Instead of lugging water-filled pots from the sink to your cooktop, save time and energy by installing a pot-filler to easily fill your pots directly on your cooktop.
•Select an efficient faucet with purposeful innovations. A pull down or pull out faucet with multiple spray patterns will improve daily living and make cleaning up easier.
•A MeasureFill faucet will save you time when cooking or baking by doing the measuring for you, while reducing clean up time and clutter.
•Select kitchen appliances that have water saving features to ensure you are not only being sustainable, but also reducing your monthly water bill.

How can I make sure my layout flows?

•Avoid traffic jams by making sure the walkways in the kitchen are wide enough, with paths at least 36-inches wide if possible.
•If putting in a kitchen island, determine whether it is for cooking or eating. Plan the space to ensure the cooktop is safely separated from the dining area, and if possible, put in a second sink to make cooking more efficient and enjoyable.
•If you're working with a smaller space, use light colours and finishes in order to give an airy feel to the kitchen.
•Maximize functionality by having your fridge, oven, sink and dishwasher strategically placed to make your daily tasks easier.
How do I keep my kitchen safe?


•Install a touchless faucet to decrease the spread of germs in the kitchen.
•Keep the cooktop out of high traffic spots so kids don't have easy access to dials.
•Hang knives on a magnetic strip attached to the backsplash or in a knife block, keeping these dangerous items out of your child's reach.
What am I forgetting?

•What is the budget you've established for your kitchen project?
•Is the style you have selected compatible with the rest of the home and will it endure the test of time?
•What do you dislike most about your present kitchen?-What works particularly well in your present kitchen?
•How and when do you entertain? Formal? Informal?
•What sort of specialized storage do you need, including cookbooks, spices, cutlery, dishes, glassware, linens, pots and pans, baking equipment, platters, wine?

We know that renovating can be exciting and at times, stressful. We are here to help make your kitchen dreams become reality.

Love,
American Standard

Learn More from American Standard