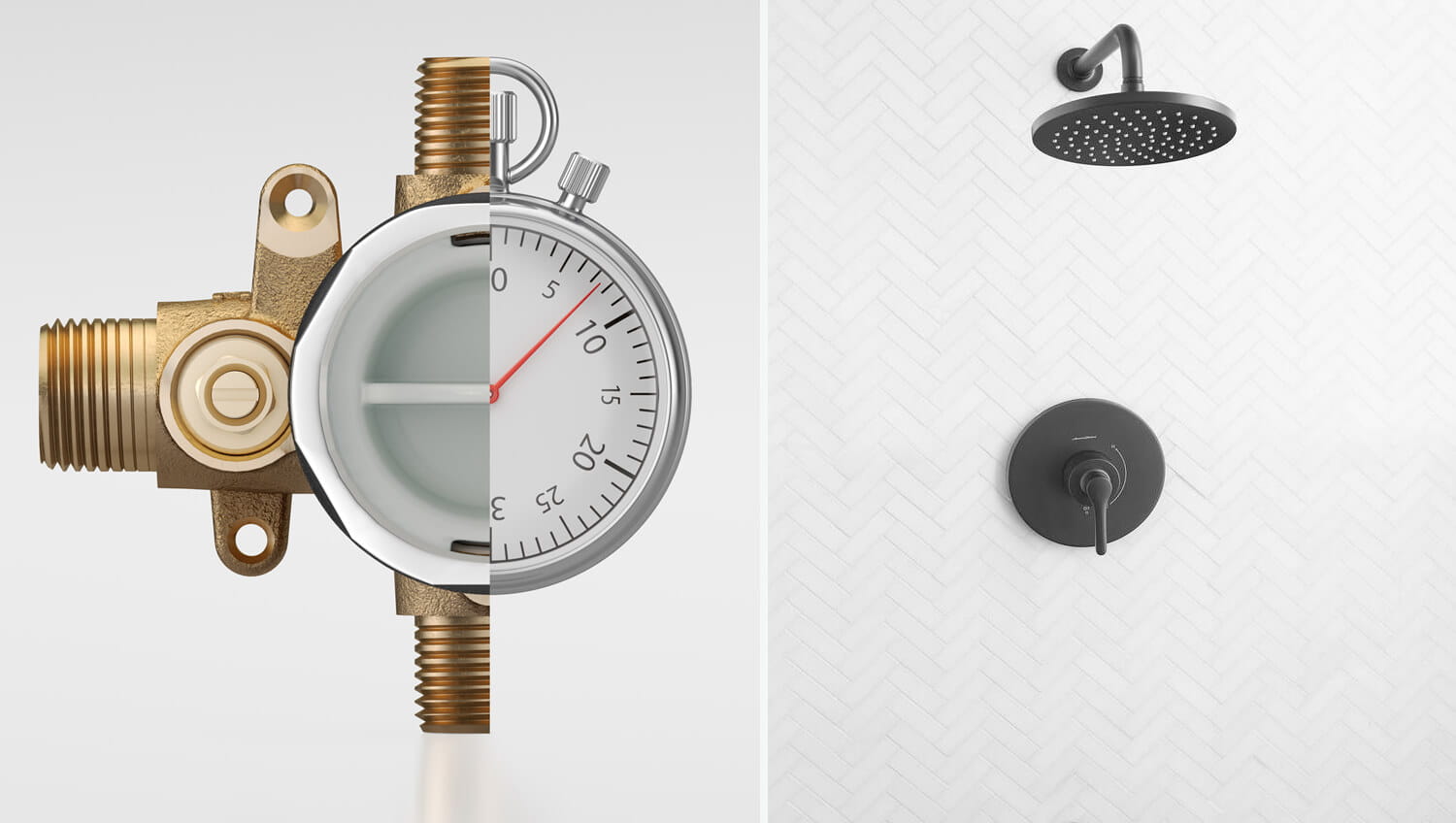 Introducing Flash™ Shower Rough-In Valves
Get More Done in More Ways, in Less Time
You've got a lot to deal with:

• Too much to do and not enough time
• Valve connection options that aren't always ideal
• Accommodating different construction methods and installs with tight spaces

Your workspace varies, but the new Flash™ Shower Rough-In Valves are designed to work with you, getting the job done faster and simpler. Get time back on your side with our flexible line of valves that are built to make your daily life better.

We'll help you get in and get out, saving you time. Because in your business, time is money.
Learn More About the Flash Shower Rough-In Valves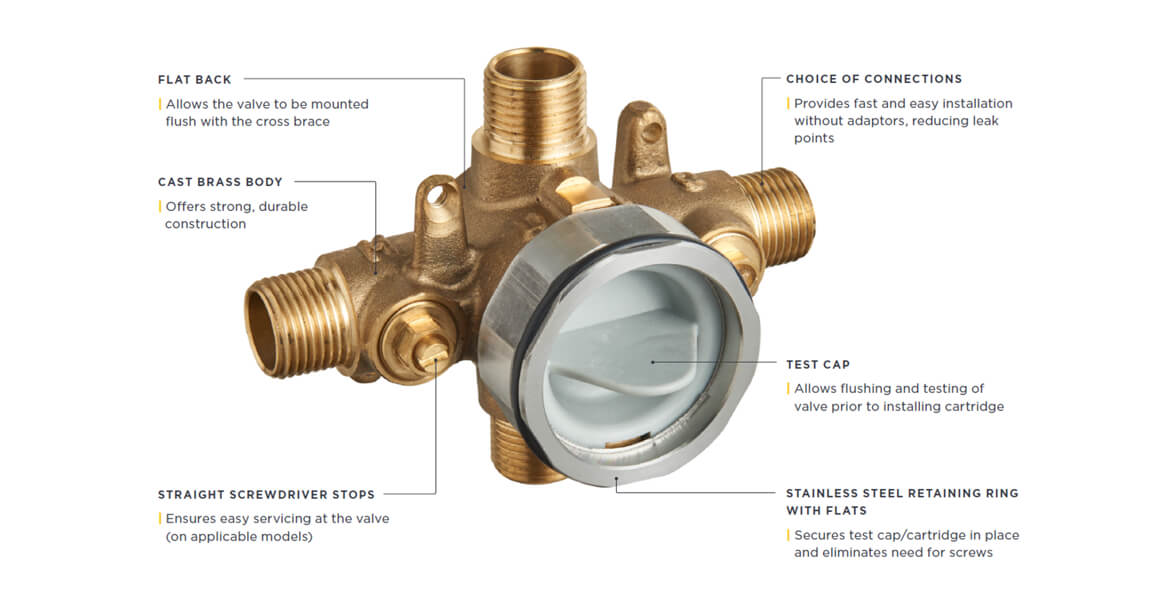 Engineered to Keep You Moving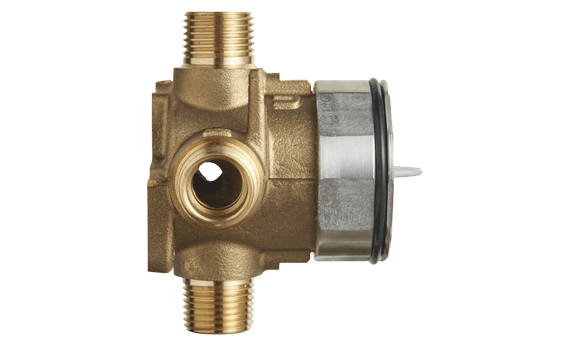 Flat Back
Intuitive flat back feature means you'll achieve a secure and solid mount every time using a 2x4 cross brace.

Designed to work in tight spaces and make use of materials that are already accessible on the job site.

Takes the guesswork out of the job.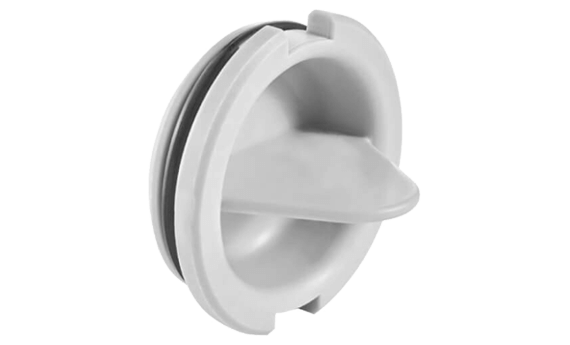 Test Cap
The test cap makes sweat-in, flushing and testing simple and fast.

No cartridge to remove.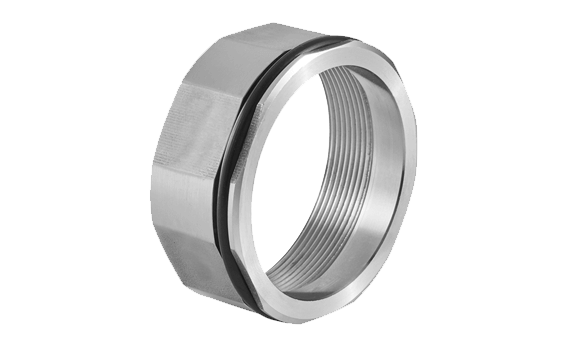 Stainless Steel Retaining Ring with Flats
Secures test cap and cartridge in place.

Flats make installation and servicing even more convenient.

No screws, no hassles.
Smaller Valve Body
When you find yourself in small cavities, you'll appreciate our smaller valve body. Built to fit tighter spaces, it also features a unique flat back that allows the valve to be mounted flush with the cross brace.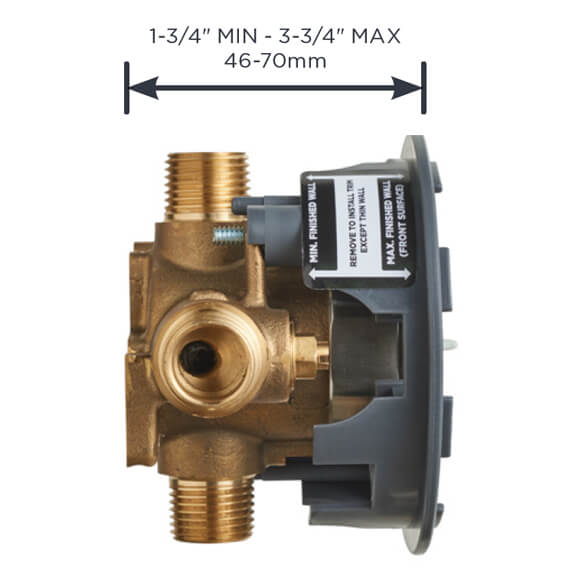 Simple to Use Rough-in Guide
Clearly marked dimensions and guides help you get the job done in no time.


Clear installation markings accommodate standard and thin wall installations.

Self-aligning screw holes eliminates fishing to find the screw holes

Self-centering hole guides centers valve in hole opening of thin wall installations

Clear rough-in guide ensures you install the valve at the perfect depth every time and with ease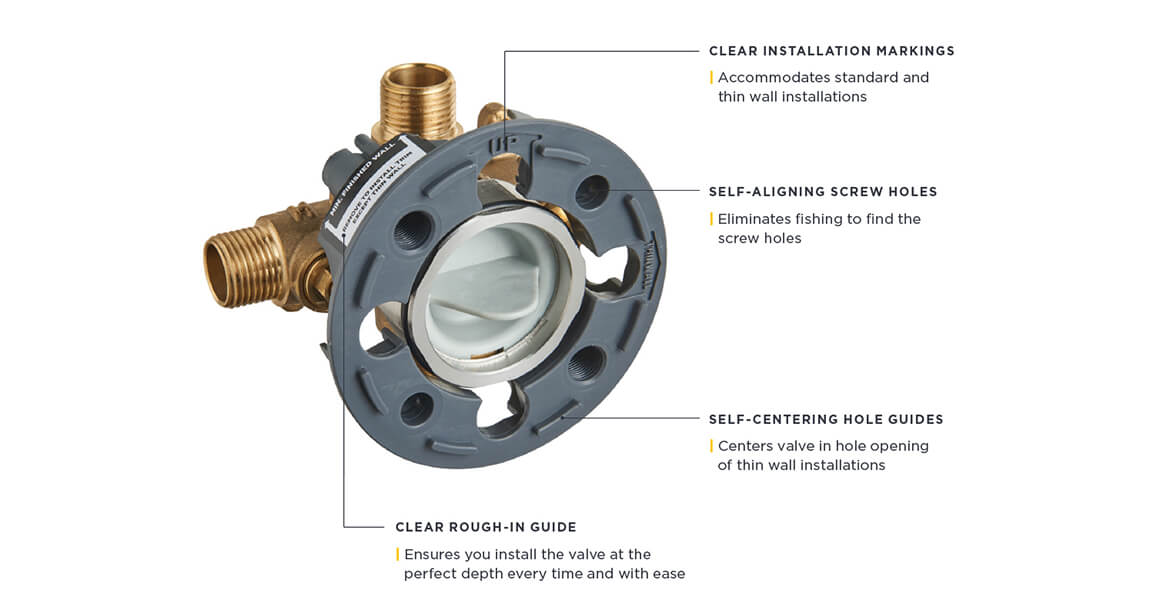 Thin Wall Installation
Our proprietary engineering allows you to easily mount the valve directly to the acrylic shower surround, easing the install while also providing additional support. A smoother process for you and a more durable result for the end-user.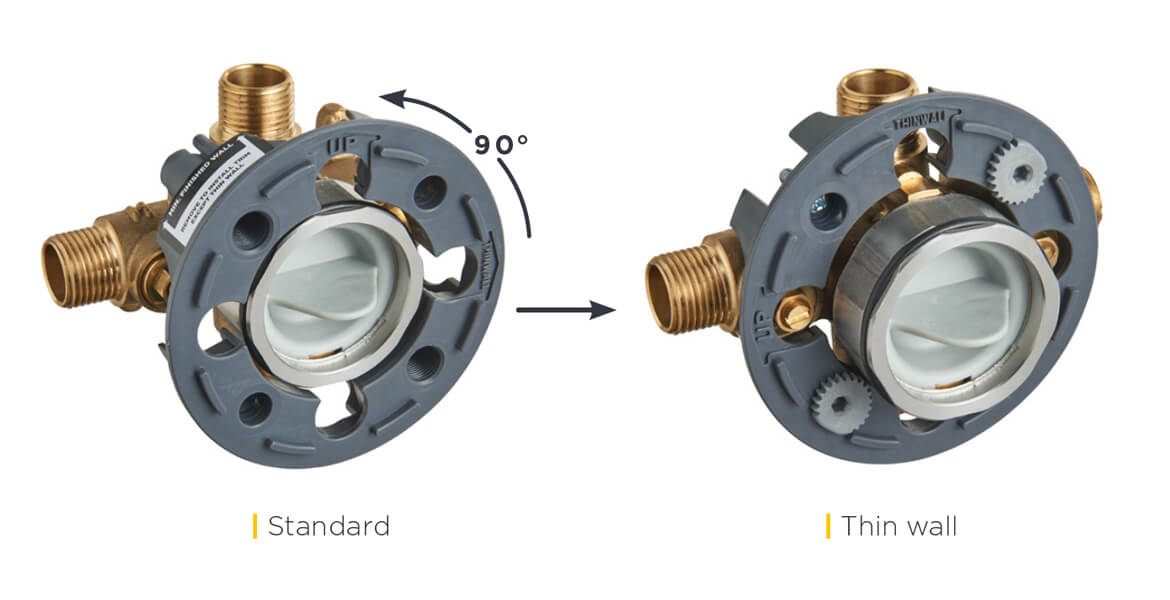 Converting to Thin Wall Support
• Rotate plaster guard 90° to become a thin wall support
• Hole guides help you to center the valve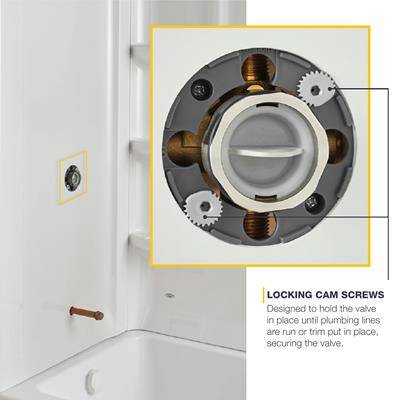 Freedom of Choice - Connections That Save Time & Effort
With the Flash Shower Rough-In Valve, you'll find more ways to get the job done faster, including some connections that are available nowhere else.
PEX Elbow Connections
Our PEX elbows let you connect the valve directly to PEX piping without adapters—and no adapters means no extra potential leak points.


• 90° PEX elbow adapters integrated into the valve body for quick installation
• Valve can be easily rotated to accommodate supply lines from either floor or ceiling

• Available for PEX Crimp and PEX Cold Expansion systems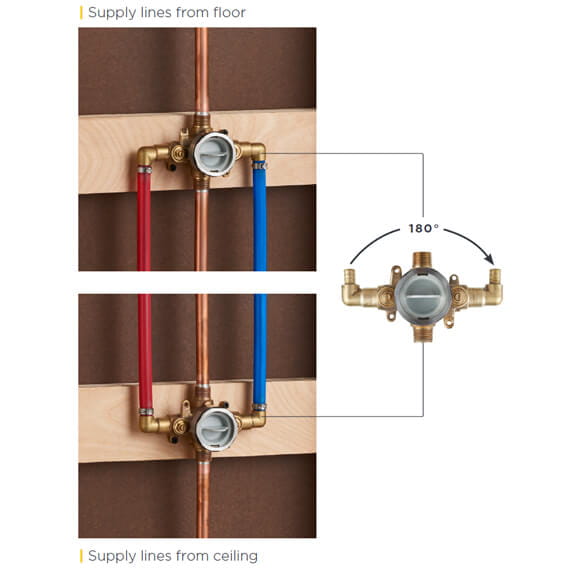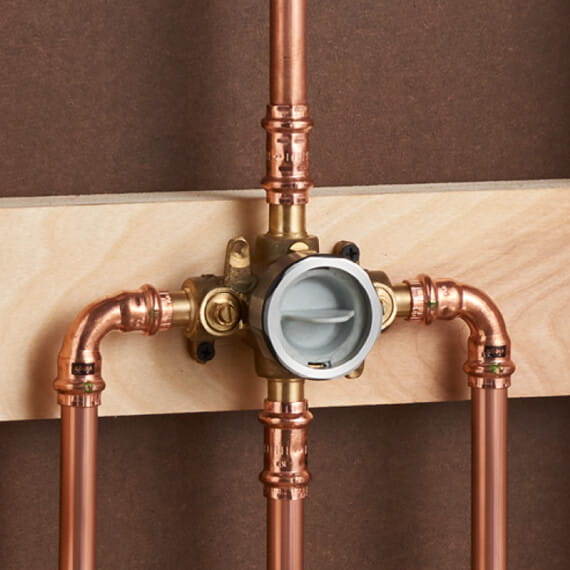 Stub-Out Connections
Our exclusive stub-out connection easily connects press-connect fittings to the valve without needing to solder additional copper piping. Only American Standard offers this smart solution that keeps things moving forward faster.


• Press-connect fittings connect directly to valve
• ½" brass stub-outs integrated into the valve body
Available Connection Options
Bath and Shower Trim Options
Flash™ Shower Rough-In Valve technology powers a multitude of stylish trim options, from traditional to contemporary. Full bath collections are available to coordinate for a complete solution. And because the cartridge comes with the trim, it's there right when you need it.
Cartridge with Double Ceramic Technology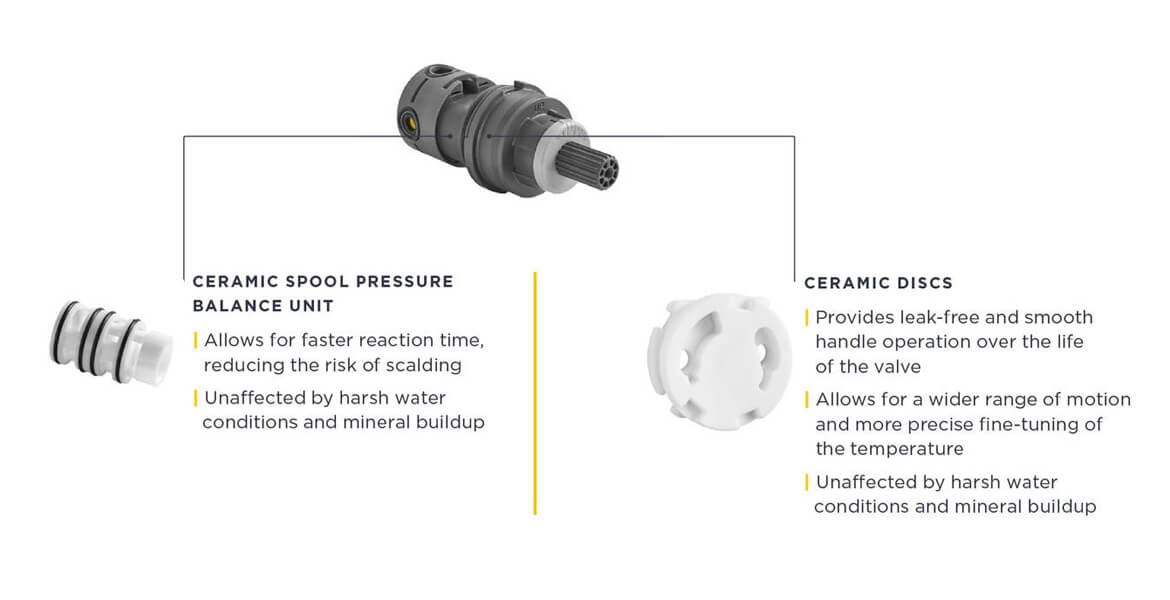 This first-to-market, all-in-one cartridge includes both the mixing valve and pressure balance unit, making it simpler and quicker to install. The cartridge comes with the trim so it's there when you need it and not before.


• The ceramic discs provide a smooth mix of hot and cold water for a wider range of shower temperatures and drip-free performance.
• The ceramic pressure balancing spool reacts quickly to pressure changes to protect against accidental scalding, providing a safer shower experience.
• The ceramic material is resistant to mineral buildup and unaffected by harsh water conditions, ensuring lasting durability.
Find Out More!
Learn more about how the Flash shower rough-in valves can help save you time, headaches, and frustration.

Download the Flash brochure now!