Expert Feature - Q&A with Kate Campbell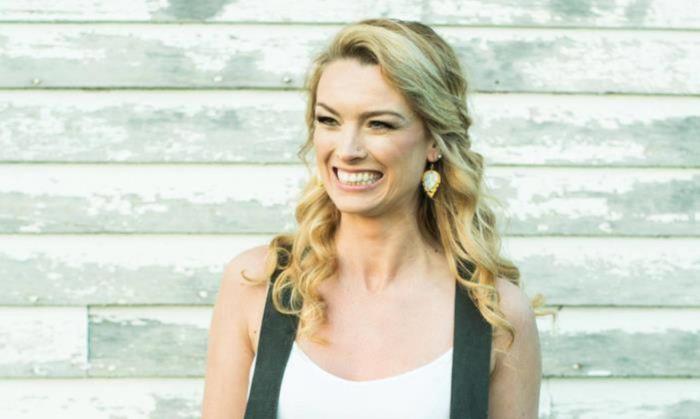 Kate Campbell has been working in the television and renovation industry for over 10 years. She got into the skilled trades in 2005 and took a "Women In Skilled Trades" (WIST) course which introduced her to carpentry, electrical, plumbing, finish carpentry, and several other trades.

She has appeared on many HGTV Canada hit series including Decked Out, Disaster Decks, Custom Built, Home To Win and Family Home Overhaul. When she's not working on her own renovation company KateBuilds Inc., she is speaking to young women who are considering entering the trades.
What has been the most fulfilling part about being a host on HGTV Canada's new Family Home Overhaul Series?

The most fulfilling part about being a host on Family Home Overhaul is being able to give back to the most deserving families. I'm am so proud to be a part of such a special show filled with so much love and incredible people.

What was the most challenging obstacle you faced in Stefanie and Justin's home transformation?

The most challenging obstacle was the fact that every single room in the house had been used and affected by the animals that the family had rescued. We had to find a way to keep the whole project cohesive while renovating almost every space. Stefanie and Justin's home was filled with beautiful wood trim and floors and we also had to find a way to preserve it and incorporate it into the design. It was a tall order, especially when on a timeline, but we got it done!

We would love to hear more about Stefanie and Justin's renovation. What did you want to achieve in this overhaul?

Stefanie and Justin purchased a beautiful farmhouse with lots of land with plans to rescue animals. They selflessly used their home to keep the animals safe before they had enclosures built and unfortunately the animals destroyed a lot of the house. We wanted to come in and give their whole living space a facelift. Stefanie and Justin also have employees and volunteers in and out of their home all day, so we wanted to create a mudroom and wash station to make things easier (they didn't have one before!). They also showered in their main floor washroom, which can get tricky when you have people in and out of your house, so we renovated both their upstairs and downstairs bathroom. We also changed the layout of their kitchen and completely overhauled it to allow for better flow and more workspace for the family!

What do you think are the most important questions to ask a family to understand their unique home design needs?

You need to ask a number of questions before you start a renovation or design. How will the space be used? What is the traffic flow? What kind of functionality are you looking to achieve? What design elements are you drawn to? And last but not least, realistically, what is your budget?

What steps does your team take to make sure a renovation is really beneficial to families? Do you try to incorporate design elements that improve lifestyle factors like convenience and well-being?

When we were planning out this renovation and design for this incredible family, we thought a lot about how this renovation could improve their day to day use of the space while also trying to incorporate more personal elements into the design. We knew they needed a mudroom for volunteers and their family to use, but we also were aware that they have two dogs and other animals that they need to constantly provide water for. That's when we came up with the idea to incorporate a pot filler/animal watering fixture under their cabinetry in the mudroom so they could easily fill buckets and water bowls! It's a design element completely unique to the family and hopefully this little detail makes their lives that much easier! Another fun note, we also included animal print wallpaper wherever we could, as an ode to the animal rescue (Stefanie loved it).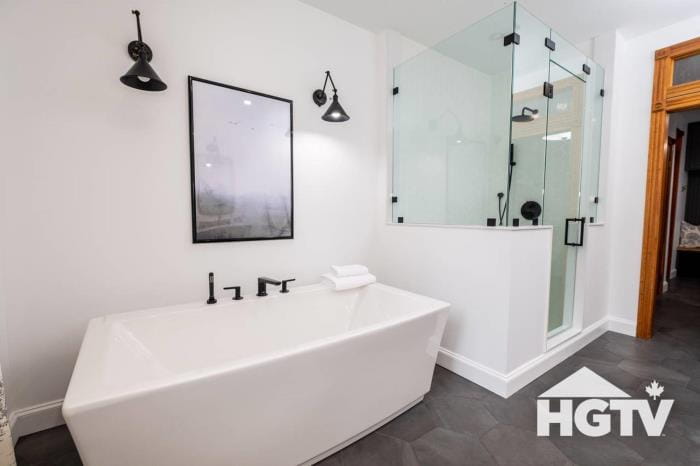 What drew you to American Standard's Studio S collection for the Kitchen and Bathroom fixtures?

The Studio S Collection was perfect for this family. It's a beautiful mix of modern (for a family that's constantly on the go) and sleek, with a matte black finish that ties in the farmhouse feel. Studio S offers everything from faucets, shower fixtures, toilets and even hooks so your renovation is completely cohesive.
What would you say are 3 easy and quick ways you can upgrade your bathroom or kitchen?

There are many ways that you can quickly and easily update your bathroom or kitchen. First, replace your plumbing fixtures. A new faucet and sink can completely change the feel of a space! Second, paint! A fresh coat of paint or even wallpaper is a great way to change the look. Paint walls or even cabinetry! Third, lighting fixtures. Change out old fixtures for something new and you'll be amazed at how much it brightens up a space!
For those going through their own reno's for the very first time, what is the most overlooked aspect and what advice can you give them?

The most overlooked aspect of a renovation is budget. I would say that before you start any kind of renovation, do your research, compile a list of wants and needs and then start to compile a budget.
What kind of home reno inspiration do you think viewers can gain from watching HGTV's Family Home Overhaul?

I think homeowners will love the fun, personal design elements incorporated into the spaces on the show. It's important to make your house and your renovation personal to you! We tackle all kinds of spaces from kitchens to bathrooms, mudrooms and bedrooms so there's inspiration no matter what room in your house you're looking to renovate!
What kind of product research do you and your team do before making final decisions? Do you have any advice for home reno DIY-ers to help them pick products that are going to fit their lifestyle and home design needs?

We do all kinds of research before making product selections but after being in the industry for so long, you also know which companies offer quality products. It's so important to do your research, talk to your contractor and designer and look things up online. There are so many options when it comes to renovating and design, but you want to be cognizant of picking quality products that will last.
For more information about Family Home Overhaul, and to watch the full episode, visit
hgtv.ca
.

Learn More from American Standard