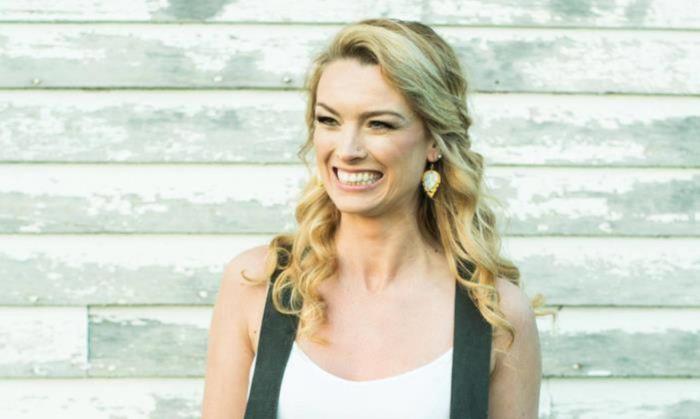 Kate Campbell entered into the skilled trades in 2005. After graduating high school and realizing that the university path just wasn't for her, Kate applied to a "Women In Skilled Trades" (WIST) course based out of Burlington, Ontario. After being accepted to the course and picking up a power tool for the first time, Kate realized she had found her passion. During the three month program she was introduced to carpentry, electrical, plumbing, finish carpentry and several other trades. Kate had always known that she wanted a career where she could stay active, be creative and constantly be challenged. Well... she found one!
Kate has been working in the television and renovation industry for over ten years and has been taught by some of the Canada's top renovators. She can be seen as part of the crew for HGTV's "Holmes On Homes", "Holmes in New Orleans", "Holmes Inspection" and assisting the final contestants as a part of "Handyman Superstar Challenge".
While working with these shows she was faced with many challenges and was also exposed to every aspect of home renovation and building. Kate was personally involved in building two homes and helped out with countless renovations. She's worked with the best designers, best builders and the most cutting edge building materials out there.
Kate Campbell has also been featured as one of the crew in HGTV's hit shows "Decked Out" and "Disaster Decks" where she helps build some of the most interesting and unique decks out there.
Kate was also one of the cast members of "Deck Wars" a show where contestants compete against each other to see who can build the better deck with the assistance of Kate and the crew of Decked Out (Dave, Joey and Host Paul Lafrance).
Kate is now one of the hosts on HGTV's "Custom Built" which combines Kate's skills from her early renovating days and her creative, fun attitude from building on Decked Out. After over ten years on HGTV Kate's career has now come full circle.
To top it all off, most recently Kate was asked to participate in HGTV Canada's hit show "Home to Win" as one of the hosts and celebrity contractors.
When she's not working with the show, Kate also runs her own renovation company - KateBuilds Inc. Her company specializes in small renovations and custom carpentry (built in cabinetry, custom casing/crown, wainscoting, kitchen and bathroom renovations).
Kate has also successfully flipped several houses of her own but by far her biggest project to date is the one she is currently working on with her husband, Dave Coleman. The couple purchased a 150 year old, 3500 square foot heritage farmhouse that was in major disrepair and needed to be completely gutted and rebuilt. Between filming Home to Win, representing companies like Dewalt, Trex and CertainTeed Insulation, Kate and Dave have been filming the renovation process for their independent web-series called "The Major House".
Kate is extremely passionate about speaking to young women who are considering entering the trades. Kate is focused on "changing the face" of the skilled trades and ESPECIALLY passionate about being an advocate for women and supporting causes that are important to her.
Kate also believes in giving back whenever and wherever she can. Kate and her husband Dave climbed Mount Kilimanjaro with the Canadian charity WaterAid in March of 2014 raising $15,000 while helping promote clean water initiatives in Africa.
Nowadays, they're extremely excited about their recently formed foundation "Build Women Up". The foundation will be concentrating on supporting women in the trades by raising money for trades programs specifically geared towards women and will also be awarding scholarships to deserving applicants. Kate's mission is to use her story and experience to help as many women get into the trades as possible. Kate Builds Boutique, Kate's e-commerce store, will also be donating a portion of each sale towards the Build Women Up Foundation.