La petite bette's Bathroom Renovations –
Decorating Tips and DIY Tricks – Part 2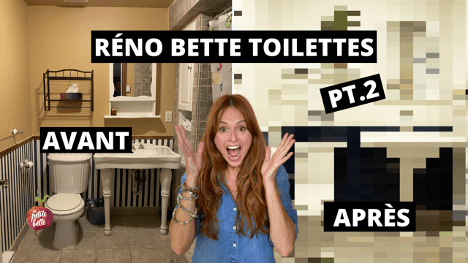 Check out La petite bette's newest bathroom renovations video. If you missed our first video and blog post, you can click here to read and watch!
We were eager to share a project with the la petite bette family that we are currently still working on and that helped occupy our time during quarantine. Thanks to a great partnership with American Standard Canada, we were able to get the most popular items of their bathroom and plumbing collections for free, in exchange for some DIY renovation tips and tricks (videos, recommendations, before/after pictures, decorating ideas, etc.).

In this video and blog post, we'll share some useful tips for renovating and sprucing up your home bathrooms. Our house, in which we have been living for fourteen years, has four bathrooms — ideal if the whole family gets the flu simultaneously! But, if I had it my way, I would have preferred fewer bathrooms and more space upstairs for the family. That being said, we're in no position to complain with so many rooms devoted to our personal hygiene in a house of average size.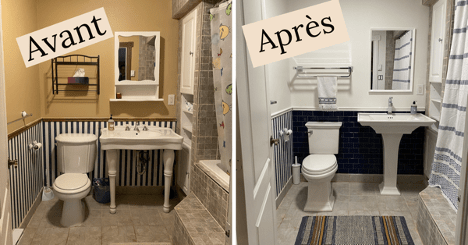 We discovered the basement bathroom had been built after the house was constructed, and clearly the tile work was from that era too. The installation of faucets and cabinets were been done by experts. Everything is functional, but the ceramic joints were never cleaned after the installation, which shows a lack of expertise. However, since the whole floor and the bottom of the shower are made of ceramic, we decided to leave it this way, as a result of lack of budget and time. We will definitely keep it in mind for future renovations.

Nevertheless, it is fascinating to see that a little bit of paint and a new toilet and sink can go a long way! The biggest transformation in this room? The royal blue ceramic backsplash! These peel and stick tiles were actually super easy to install and only $180 on Amazon.ca. A real steal! The blue seems to now be out of stock, just like many other decorative items, hardware pieces or accessories — we were not the only ones to undertake renovations when COVID hit. In fact, if you're thinking about giving a makeover to any room in your house, we suggest you verify the accessibility of the items you want and book your experts in advance. You may be surprised that both will not be available until 2021.

As we mentioned in the first blog post, we love the look of the Town Square collection from American Standard. It suits the French bistro flair of this bathroom, which is the one used by our friends and family when staying over in the guest room downstairs. It's also our second shower and because of its proximity to the hot water tank, it has unparalleled water pressure. Ideally, we would have removed the shower/bath unit and replaced it with a ceramic walk-in shower with glass walls, but we didn't have that kind of budget! Instead, this is what we did.

Plumbing: American Standard Town Square Collection

Finally, a toilet that's not leaking and that flushes properly! I love this chic model from American Standard: Town Square S right height elongated toilet (2917228.02).

We also chose the elegant Town Square S pedestal sink (297100.2) with the Town Square S single-handle faucet (5107.002).

To complete the look, we opted for the 24-inch Towel Bar (7455024.002) from the TS Series bathroom accessories, as well as the 24-Inch Train Rack (7455260.002).
And the final touch: changing the shower curtains and adding a beautiful area rug. I also bought all the posters and frames featured in this bathroom and the next one at Opposite Wall, a local company that sells all their products online.

What do you think? I'M OBSESSED!
Main Bathroom Upstairs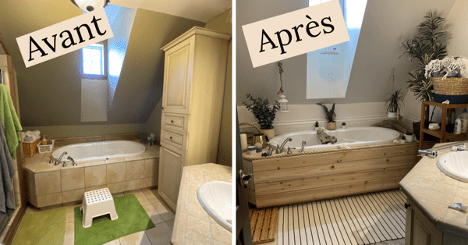 When you hear that a bathroom is "cute" or "cozy," it's not really a good thing. Basically, it means the bathroom is small. That's the problem we had with our upstairs bathroom and we had no intention of knocking down walls or redesigning the entire floor in the midst of the confinement. This makeover is proof that a little paint and some decorative accessories can go a long way!

Also, I have a confession

We were lazy and lacked imagination. I hate that I didn't take advantage of American Standard's offer to change the bathtub! Just take a look at this model and you'll understand why it would have been the perfect piece. But since it's pointless to dwell, here's what we actually renovated.

The star of the bathroom is definitely the Advanced Clean 100 SpaLet bidet toilet (297AA204.020). The Cadillac of toilets, this model not only has a built-in bidet but opens and flushes automatically. It also features a night light for nocturnal trips to the bathroom and a remote control including a full range of care for your bottom. Let me tell you, everybody now wants to use this bathroom! We also replaced the faucets with the chic Studio 2-handle 8-inch widespread high-arc faucet. We probably should have changed the sink too, but with the ceramic countertop, it seemed a bit ambitious. I hate it when my logical brain ruins my creativity.

As for the bathroom accessories, we love the Studio S collection from American Standard. We opted for the Studio S robe hook (7105201.002), the 24-Inch double towel bar (7205224.002) and the toilet paper holder (7105230.002). Small, but noticeable details.

Transforming the old khaki and beige décor into a white space with botanical print was incredibly satisfying. Adding cedar wood panels around the bathtub created a nice rustic feel ($60 well invested to cover up the beige ceramic bathtub). We also put candles, plants and other small decorative items around the room, all purchased at Ikea. We are beyond happy with the result!
Once again, we accomplished all this with a small budget and minimum work. The only thing I'd still like to change in this room, besides getting the Coastal Serin bathtub from American Standard, is painting the cabinets. I've already bought a gallon of oil primer to start on this project. Knowing me, it should be finished by 2025! By the way, a local company called Colorantic sells chalk-based paint, which seems perfect for this type of project. I'll definitely buy their products…when I have the time!

Curious to know what's next? We are giving our motorhome a makeover! We will share our DIY tips for buying and renovating a motorhome, a van or a vintage retro trailer. We've learned a lot over the years and it's time to talk about our experience with all of you people embracing the #vanlife more than ever since the COVID era.

Talk soon!
La petite bette xx

Learn More from American Standard