Our DIY Bathroom renovation - Part 1: The Powder Rooms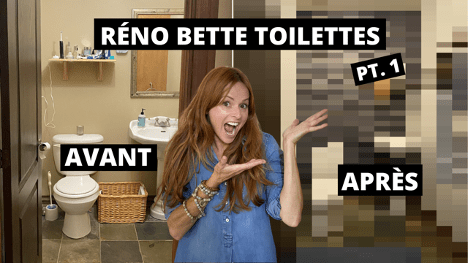 We were eager to share a project with the la petite bette family that we are currently still working on and that helped occupy our time during the lockdown. Thanks to a great partnership with American Standard Canada, we were able to get the most popular items of their bathroom and plumbing collections for free, in exchange for some DIY renovation tips and tricks (videos, recommendations, before/after pictures, decorating ideas, etc.).

Perfect timing! We have four powder rooms and bathrooms and they were all overdue for a makeover after more than fifteen years. The enamel on the faucets was crumbling, the toilets were either running or not flushing properly and the rooms boasted a sad look from the early 2000s. In short, they needed love! Since buying the house in 2006, we hadn't done any work in the bathrooms. We even renovated the kitchen of our 1979 motorhome before tackling this project! So, we decided to dedicate three videos and articles to these cool renos in September and we hope that they will inspire you to transform your bathrooms on your own!

Without further delay, here are the results for the first part: the powder rooms. We suggest you start with the video, which will give you a great look at the project. You can always come back to this article for references and further explanations.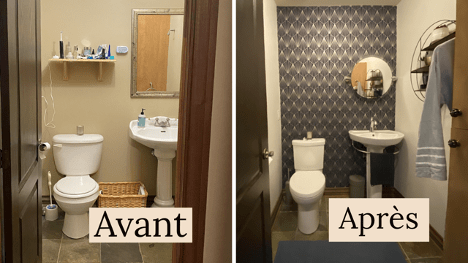 Powder Room in the Master Bedroom
This miniature, windowless and lackluster powder room really needed some love! We changed the entire plumbing: toilet, sink, faucet and bathroom accessories. We kept the existing furniture but changed the cabinet handles.
The major change is the installation of a new sleek and modern toilet, and the new Ravenna pedestal sink featuring chic and shiny faucets. I love the final result for this powder room: it's stylish, a bit masculine and astonishing.
American Standard C Series Collection:
Double robe hook
(8337210.002)
Toilet paper holder
(8337230.002)
Fluent single control bathroom faucet
(7186101.002)
Ravenna pedestal sink
(0268100.020) + Optional 24 inches integral mounted towel bar
Toilet:
Studio Suite dual flush right height elongated
(2794294.2)
The most noticeable transformation, aside from the American Standard accessories, is the Graham & Brown wallpaper, which we bought online. The model is the
Rene Nightfall
in blue.
The area rug was purchased a while ago for our Airstream trailer.
The wood and metal round storage unit was purchased at
Aube Design
, a furniture makeover store and paint shop located in Sainte-Thérèse a long time ago for our Airstream 1965.
Powder Room/Laundry Room on the Ground Floor
This powder room/laundry room was cluttered and truly…embarrassing! As the main floor washroom, it was the most used by visitors and everyone else. Once upon a time, it served as a changing room for the twins, a pharmacy and a laundry area for the whole family. For a room of less than 100 square feet, it has served way too many functions.


Unfortunately, moving the laundry room is not an option, financially and logistically. Eventually, we plan on installing doors rather than curtains to hide the washer and dryer, but...we'll keep these plans for later!


I have to say that my favourite part of the project was installing a new sink and faucet. Getting a new toilet with a bidet seat was also quite the plumbing upgrade! If you are considering buying a bidet (and survive the next COVID toilet paper gate!) think about simply adding a bidet seat like this one to your existing toilet, instead of buying a separate one. But before, make sure that the size and shape of the bidet seat are compatible with your toilet. If not, American Standard recommended the Studio S elongated toilet, which is perfect for this purpose.


Sink and faucets
•Ovalyn above counter sink
•Studio® S – Handle vessel bathroom faucet

Plumbing: Collection American Standard Studio S
•Studio S Towel Ring
•Studio S Toilet Paper Holder

Toilet and bidet seat:
•Studio dual flush right height elongated
•Advanced Clean 3.0 SpaLet bidet seat with remote control operation (absolutely rad!)
Note: the bidet seat requires electricity; make sure your budget includes funds for hiring an electrician to add a specialized outlet in your bathroom.

Decor:


The Midsummer Fern Lush model wallpaper features a modern botanical print and comes from Graham & Brown. We vouch for this company and love their high-quality wallpapers that are easy to install with the kit they sell online, the Superfresco Easy-Paste Kit.
We already had the shower curtain in the bathroom, and I can't remember where it comes from! The area rug is from IKEA and the countertop is a homemade piece crafted in Acacia and treated with Livos universal oil sealer.
Pro tips:


•Before thinking of buying decorative pieces, look around your house, the attic or the garage to see if you could give a second life or transform any old items. Green plants, candles and beautiful objects can make a significant impact for very little money.

•Don't be afraid to put dark wallpaper in a small room! It can help create a cozy ambiance or add some depth to a dark and windowless room.
Note: All American Standard items were provided free of charge as part of a sponsorship, with no other financial considerations. All decorations, installation and experts (electrician, plumber) fees were covered by la petite bette. We hope this content will inspire you to give your own bathroom a makeover and perhaps even undertake other renovation projects.

Learn More from American Standard