Renovation of N.J. Family Shelter Enhances Daily Life for Residents, Courtesy of American Standard
"I was homeless and looking for somewhere to go. I heard about Naomi's Way. Living there made me feel a lot safer; it helped me so much. I felt secure; I felt relief. There was hope." — Cynthia, former resident of Naomi's Way
Such is the impact that the Naomi's Way temporary housing shelter had on the life of Cynthia and her two children when they became its first residents 15 years ago. Operated by Catholic Charities, Diocese of Metuchen (CCDOM), this New Brunswick, N.J., facility consists of 12 apartments that formerly accommodated women and children for up to 18 months, until they could get on their feet and into permanent housing of their own. The 52-year old Naomi's Way building is a well-kept brick structure, located in a residential section of this diverse urban area of central New Jersey.
In late 2016, CCDOM made the decision to convert Naomi's Way into permanent housing for persons with special needs related to homelessness, job loss, abuse, addiction, etc. The nonprofit organization planned to update the kitchens, replace appliances, and paint only where needed. That's when American Standard, part of LIXIL, called with an offer to help.
Headquartered in Piscataway, N.J., the plumbing manufacturer had a goal to make a difference in the lives of people in their local community. Specifically, providing assistance to a family shelter was in mind, and their outreach to nearby Naomi's Way was indeed fortuitous.
"Our mission at American Standard and LIXIL is to improve daily living," explained Jeannette Long, vice president of marketing communications for LIXIL Americas, the division under which American Standard operates.
"Naomi's Way was the perfect opportunity to bring our mission to life, and allowed us to come in and impact the lives of families who will soon call this home. This remodel helped make a difference by providing homes that are more beautiful, safer and more efficient," Long said.
"Catholic Charities serves those who are most vulnerable, those in poverty, those disenfranchised members of our communities. We provide them with a continuum of housing options, ranging from immediate shelter safety, to various affordable permanent housing options, so they can become participating members of their local community as soon as possible," said Rebecca Rhoads, service area director, housing and social justice, for CCDOM. Driven by Catholic social teaching, CCDOM provides quality services with dignity and respect to people from all walks of life, races, religions and economic levels.
As part of this philanthropic initiative, America Standard donated more than $100,000 in product and remodeling funds, plus more than 330 hours of employee volunteer time to repaint all the apartments and common areas in the building. Employing the skilled labor of All Phase General Contractors of Perth Amboy, N.J., the bathrooms were gutted and rebuilt from the ground up with new fixtures, faucets, tile, and windows. Renovations occurred over a four-month period, with the first residents moving into the newly upgraded apartments in June 2017.
"When initially planning this project, we had enough in the budget to renovate the kitchens and make needed repairs," said Facilities Maintenance Department Manager Rich Matarangelo, who oversees 38 CCDOM buildings throughout Middlesex, Hunterdon, Somerset and Warren counties. "When American Standard stepped up with this partnership and offered product and labor funds, it enabled us to address the bathrooms, as well. We could now give this building a much-needed facelift."
The centerpiece of the contemporary-styled bathrooms in the Naomi's Way apartments is the Studio vanity that houses a striking rectangular Studio above-counter sink. It is topped with a stately Townsend single-handle faucet that is ideal for a family setting with users of all ages and mobility levels; plus, it meets ADA-compliance requirements. The faucet's tapered design lines house ceramic disc valves for smooth handle operation and drip-free performance, accented with a hot water safety stop to help prevent scalding. The Townsend's water-efficient 1.2 gallons of water per minute (gpm) flow rate uses 45 percent less water than standard bath faucets.
The classically styled Champion PRO toilet in all the Naomi's Way bathrooms offers designer styling and water-saving functionality with its virtually clog-free 1.28 gallons per flush (gpf) performance. Features like this are top-of-mind for facility managers, whether residential or commercial, to ensure that bathrooms are safe, easy to use, less prone to maintenance issues and call-backs, all while saving money on resources and energy.
The remodeled bathrooms now include Princeton integral apron bathtubs made from brand-exclusive Americast engineered steel. The tubs' lightweight construction simplified installation for the All-Phase team. The excellent heat retention and noise-buffering qualities of Americast, along with its StanSure slip-resistant surface, are desirable qualities for multifamily dwellings like Naomi's Way. A Townsend pressure-balanced bath and shower faucet, accompanied by a water-saving 6-inch showerhead delivering a luxurious water spray, are showcased in each bathroom. Finishing off the bathroom suite are elegantly crafted Townsend bathroom accessories that provide optimum comfort and convenience for the new residents.
"We were able to create durable and attractive living spaces that are water- and energy-efficient," stated Matarangelo. "With everything supplied being water-conserving, we expect to see a dramatic decrease in water usage and related costs over the long term."
The four-person CCDOM maintenance crew handled the kitchen renovations, purchasing all-new cabinets with slow-close drawers and doors that will help reduce the wear and tear that this multiunit facility experiences. Certain appliances were replaced; others were cleaned up for reuse. To further upgrade each kitchen, American Standard provided its high-arch Pekoe single-handle kitchen faucet with a convenient swivel spout, along with a durable stainless steel single-bowl kitchen sink that is built to last and is easy-to-clean.
Taking this local cause one step further, American Standard reached out to neighboring manufacturers to seek additional product donations to further enhance the Naomi's Way apartments. Philips Lighting, based in nearby Somerset, N.J., donated transitionally styled, energy-efficient LED lighting fixtures. The company also sent a crew of volunteer employees to assist with the painting effort. Melville, N.Y.-headquartered Leviton provided Arc Fault Circuit Interrupter (AFCI) outlets for protection against electrical fires, as well as new switch and outlet covers for installation throughout the building. The local Sherwin-Williams in North Brunswick, N.J., donated paint for all the apartments and common areas within the building.
"We appreciate our fellow building and construction partners – Philips Lighting, Leviton, and Sherwin Williams – for their generous contributions to this project," said Long. "This meaningful collaboration between private industry and nonprofits will have a deeply positive effect on so many vulnerable members of our community, helping to build a brighter future for everyone."
After seeing the completed apartments, CCDOM Executive Director Marianne Majewski was simply amazed. "This donation from American Standard was a game-changer for our clients. We are able to provide them with a high level of quality and stylish décor that they would not normally have. It will really impact their lives," she stated.
As for Cynthia, she has come full circle. After moving from Naomi's Way transitional housing into a permanent home years ago, she now works for CCDOM as a resident attendant supervisor. Her job entails screening qualified applicants to become residents of the various shelters operated by the Diocese of Metuchen. She often finds herself sharing her personal story of the difficult life situation she once faced.
"I feel gratitude every day that I can share my experience and help other families coming here with the uncertainty in the whole process of homelessness. I am proud of myself for what I have accomplished," she said. "But the most rewarding thing for me is to work for this agency and be able to give back to others, and offer them hope for the future."
Check out the videos of Naomi's Way here:
American Standard Participates in Renovation of Naomi's Way
American Standard Partners with Catholic Charities for Naomi's Way
The Naomi's Way housing facility, run by Catholic Charities, Diocese of Metuchen, provides a permanent home for families in need in central New Jersey.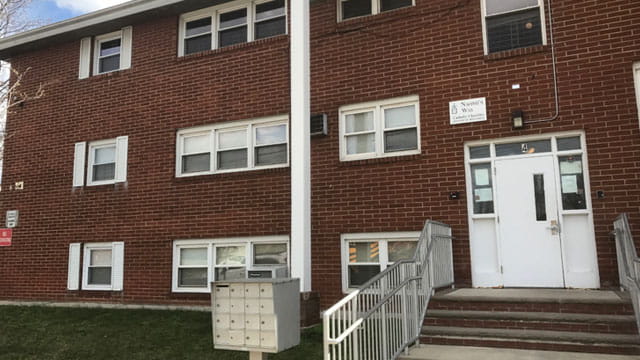 The original bathrooms were remodeled, courtesy of American Standard, part of LIXIL, with the 1.6 gallons per flush (gpf) toilets and 2.2 gallons per minute (gpm) faucets replaced with new high-efficiency models.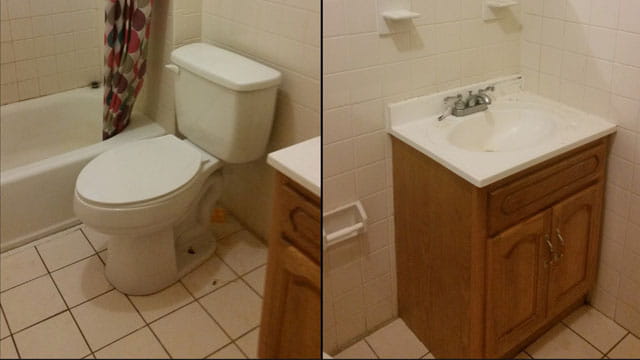 The contemporary-styled renovated bathrooms in Naomi's Way showcase Townsend sink and tub/shower faucets, Studio vanity and mirror, Champion PRO high-efficiency toilet and the Princeton Americast bathtub.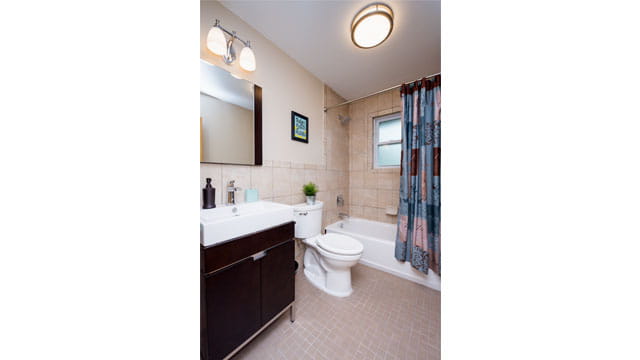 The Townsend monoblock faucet pairs well with the Studio above counter sink and dark wood vanity and coordinating mirror for a high-style look in the Naomi's Way bathrooms.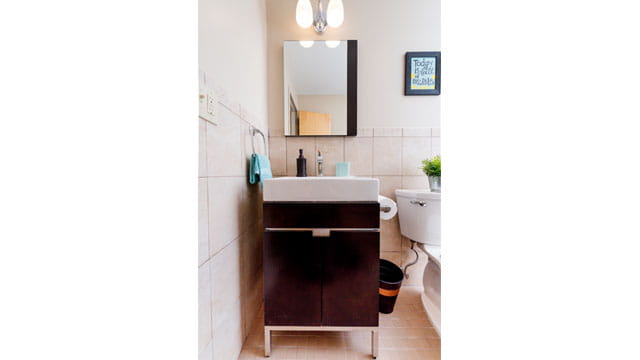 The American Standard Champion PRO high-efficiency toilet was installed in all Naomi's Way apartments, to provide virtually clog-free performance using a water-conserving 1.28 gpf.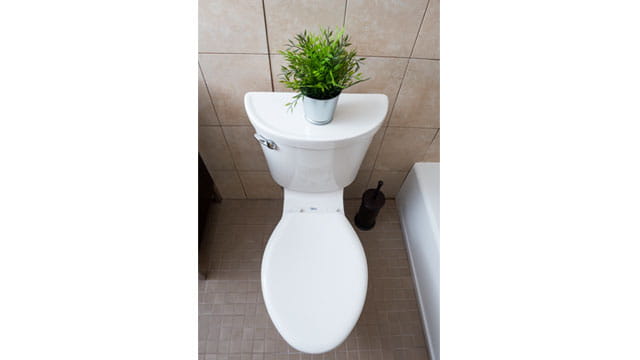 The bathrooms in the Naomi's Way facility were replaced with high-style, water-efficient units,courtesy of American Standard, part of LIXIL.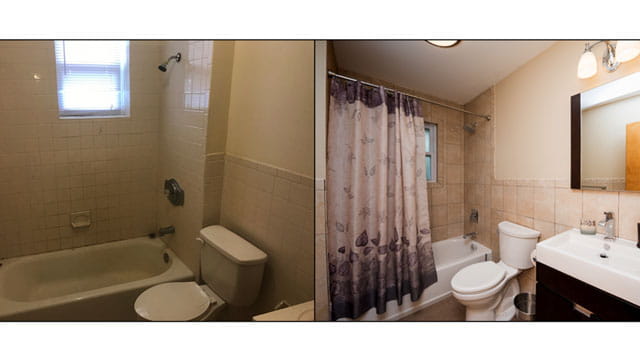 The original kitchens in Naomi's Way had seen a lot of wear and tear through the years, providing a transitional dwelling for previously homeless families in central New Jersey. An attractive American Standard Pekoe single-handle faucet and coordinating stainless steel sink outfit the new kitchens, along with stylish wood cabinets with convenient slow-close drawers and doors.
Before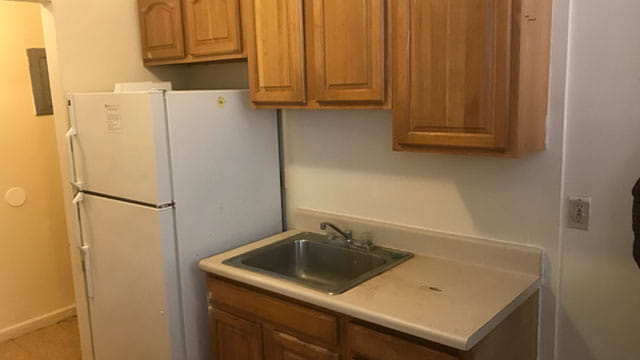 After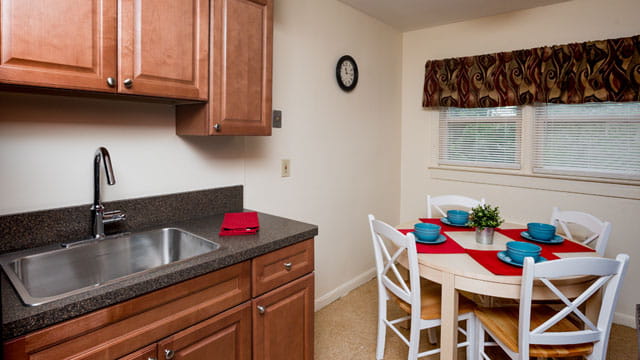 Twelve apartments in the Naomi's Way housing facility will accommodate families in need with a permanent home in New Brunswick, N.J., a diverse urban center in central New Jersey.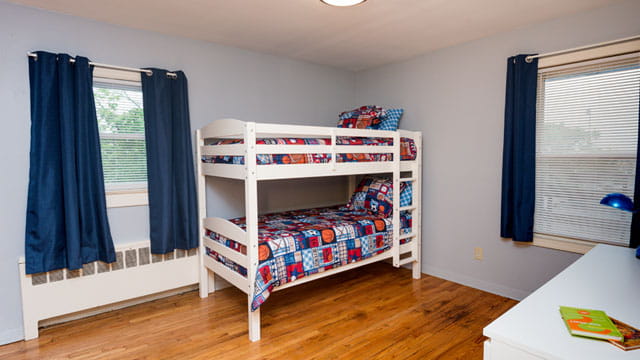 All of the apartments in Naomi's Way received a fresh coat of paint, courtesy of Sherwin Williams. New ceiling LED lighting fixtures were donated by Philips Lighting, with AFCI outlets and switch plates/outlet covers courtesy of Leviton.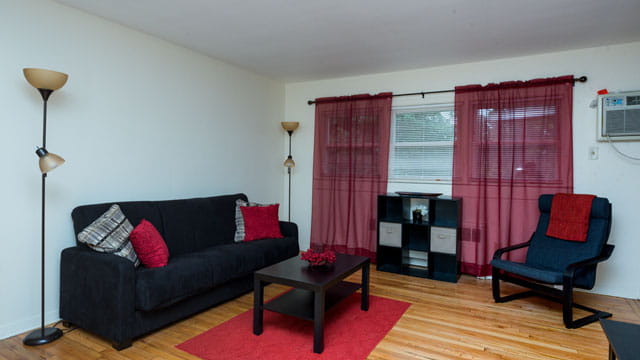 Naomi's Way, run by Catholic Charities, Diocese of Metuchen, provides hope to homeless families seeking permanent housing to gain stability and establish roots in their local community.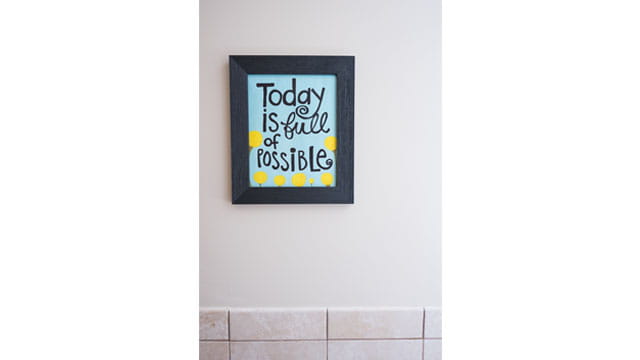 Studio®, Townsend®, Champion®, Princeton®, Americast®, and Pekoe® are registered trademarks of American Standard Brands.
StanSure™ is a trademark of American Standard Brands.
###