Marriott Marquis Washington, DC: Overcoming Logistical Challenges Leads to Design Success
When the Marriott Marquis Washington, DC finally opened the doors of its massive 1.1 million square foot luxury hotel, it represented a major achievement on many fronts: the culmination of nearly two decades of planning, a blend of old and new architecture, and a solution to a serious lack of hotel space for DC conference attendees.
For American Standard, part of LIXIL, the achievement came in the form of the logistical marvel of delivering thousands of plumbing fixtures and faucets to a facility with no parking or on-site storage to speak of, on tight deadlines that could change at a moment's notice.
At 16 stories high and spanning nearly a full city block, the Marriott Marquis boasts 1,175 guest rooms and 37 suites designed for the luxury business client. Its gigantic glass atrium fills the massive lobby with light and accents a 27,000-pound sculpture called The Birth of the American Flag — an obvious theme for a hotel not quite a mile from the White House. The hotel's beautiful modern facade also embraces historical architecture, incorporating the former headquarters (now a national landmark) of the American Federation of Labor, a seven-story brick and limestone building built in 1916.
To complement their design vision in the suite bathrooms, architects for the Marriott Marquis chose the more casually fashioned Cadet Pro toilet to outfit the standard guestrooms. Showcasing high performance with the brand-exclusive PowerWash bowl flushing technology that clears waste effectively. "The Cadet Pro collection was chosen because of its classic lines," said John Fox, district sales manager at LIXIL Americas, the business unit under which American Standard operates.
During the hotel's two-year construction phase, getting all the fixtures and faucets to the hotel proved to be, as Fox puts it, "a logistical nightmare." Although he quickly adds with a note of pride, "one of the most amazing parts about the whole thing is that there were no glitches."
Because of the hotel's downtown DC location, notorious for its traffic and lack of parking, there was simply no way to stage the products at the hotel itself. "Everything had to be stored off site. We were shipping everything to the contractor at very specific time intervals so they could pre-assemble as much as possible before taking it to the job site. The schedule was relentless, and kept changing on very little notice," said Fox.
Working around these challenges, the Town Square widespread bathroom sink faucet proved to be perfect for the hotel's design and construction timeline, as well as for the needs of guests. Its innovative Speed Connect metal drain installs with fewer parts, allowing for time savings and reduced labor costs. The solid brass construction of the faucets and showerheads provide durability that stands up to constant use, and the line's WaterSense certification means 32% less water use than standard bathroom faucets, with no loss in performance. The Studio undercounter bathroom sink distinctively highlights the Town Square sink faucet, with its unique curved basin and geometrically precise rectangular design lines.
Despite numerous challenges, the Marriott Marquis Washington, DC project finished on time and to rave reviews of travelers. "This was really a pioneering effort," added Fox. "The whole situation presented challenges that we had not dealt with before, and to be able to pull it off successfully was very gratifying."
The Marriott Marquis Washington, DC blends old and new architecture as a modern glass facade meets a brick and limestone historical landmark building at the corner.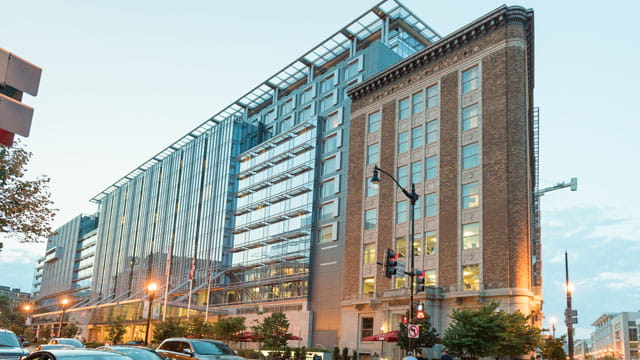 A towering glass atrium allows natural light to illuminate the hotel's central lobby. A massive sculpture serves as the lobby's centerpiece, and can be seen from guest rooms facing the lobby.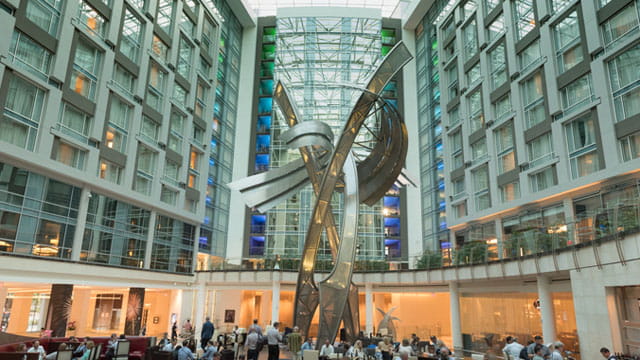 Elegant Town Square bathroom sink faucets, Studio undercounter sinks and a Cadet PRO high-efficiency toilet, all from American Standard, provide classical design lines in the guestrooms.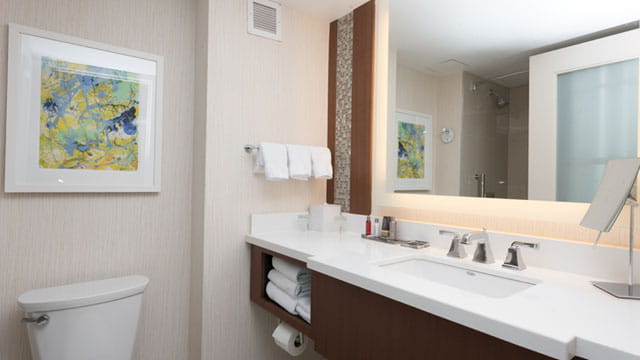 The American Standard Cambridge bathtub features brand-exclusive Americast insulated steel that is more durable, lighter and costs less to install than other alternatives. The alcove tub is accented with the classic styling of the Town Square bath/shower trim kit.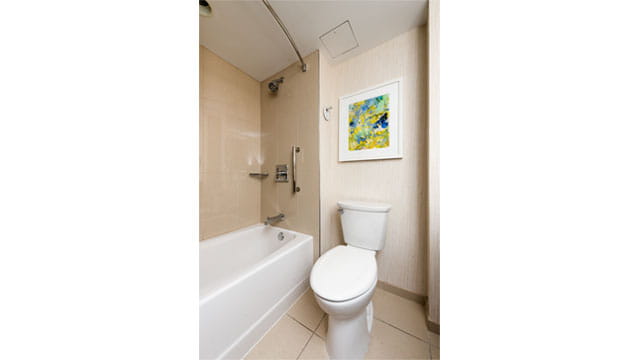 Guest rooms feature American Standard Town Square bathroom sink faucets, with traditional styling as well as drip-free ceramic disc valves and durable brass construction. Studio undercounter sinks provide a classic shape and stain-resistant vitreous china surface.
American Standard Cadet PRO toilets offer guests exceptional flushing power, while the brand exclusive EverClean surface and PowerWash flushing technology mean easier cleaning for hotel staff.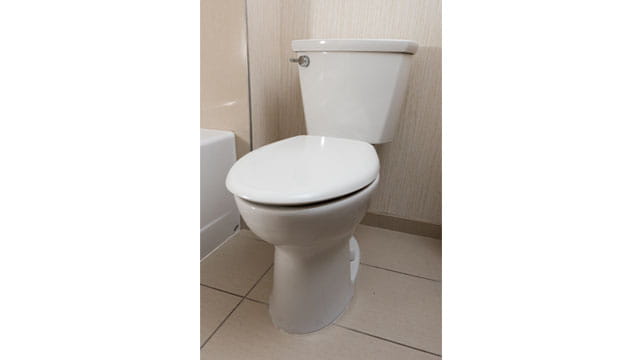 Smoothly styled hands-free sink faucets and rectangular undercounter sinks, both from the American Standard line of commercial bathroom solutions, sleekly highlight the marble countertop space in lobby restrooms.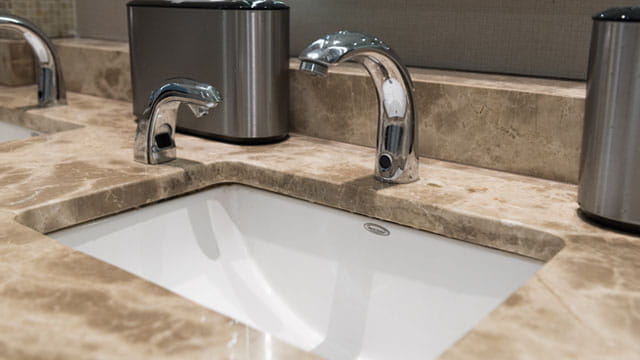 Cadet®, Cambridge®, EverClean®, PowerWash®, Speed Connect®, Studio® and Town Square® are registered trademarks of American Standard Brands.

WaterSense® is a registered trademark of the U.S. Environmental Protection Agency (EPA).