Introducing the Flex House: Right-Sized Living
Jun 28, 2017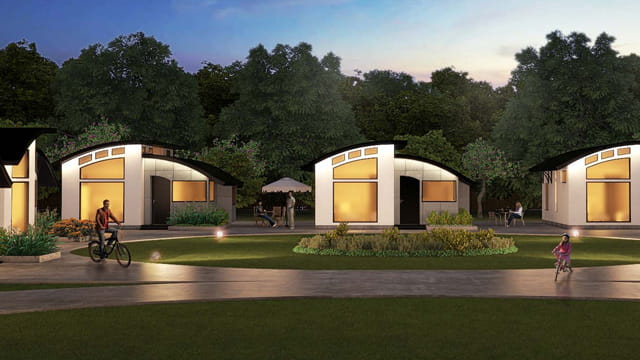 SAN DIEGO, PCBC (June 28, 2017) – Green Builder Media proudly introduces the next project in our esteemed and long-running VISION House demonstration project series: the Flex House. Manifesting the concept of "Right-Sized" living, the Flex House is designed to help homeowners use exactly the amount of resources they need—no more, no less.
Green Builder Media and specialty modular builder Shelter Dynamics have joined forces to create the Flex House, a model for "Right-Sized" living in a small-footprint, flexible space that is completely connected, intelligent, resilient, solar, and sustainable.
To us, "Right-Sized" living doesn't just refer to square footage. It also means having the flexibility to adapt your home to your evolving lifestyle and consuming only the natural resources that you need—no more, no less.
Creatively conceived, the Flex House allows homebuyers to design a home that matches their specific living needs by selecting from a menu of pre-fabricated modules. The base unit is 760 square feet with a master bedroom, a smaller room that can serve as an office and a second bedroom, bathroom, two living areas, full kitchen, and flexible "niche" space.
Additional modules can enlarge the floorplan. Work from home? Get the enhanced office module. Expecting kids? No problem—add more bedroom modules. Want an outdoor patio with a living wall and garden beds? We've got you covered!
The Flex House's design aesthetic is equally as adaptable as its floorplan—a homeowner can order the home in many different styles, ranging from contemporary to craftsman.

Boasting a fully integrated smart + solar system, the Flex House is fully powered by a cutting-edge solar system with battery storage. The home can produce all of its own power and serve as a microgrid, and can therefore be grid-tied or independent.

The advanced smart home hub platform streamlines the production, storage, monitoring, and usage of energy to create the ultimate demand-side energy management strategy. It also connects voice-enabled controls with lighting, mechanical, entertainment, water, indoor air quality, irrigation, and other systems.

The Flex House also highlights the concept of Intelligent Water. Designed to be ultra-water efficient, the home features water conserving products and fixtures, as well as leak detection, water filtration, grey water, and smart irrigation systems.

Featuring high performance windows, spray-foam insulation, tankless water heater, mini-split HVAC system, smart lighting, advanced appliances, and indoor air quality systems, the Flex House is resource efficient, durable, and healthy.

Flex House sponsors include:
The performance of the Flex House is matched by its high design: the hand-crafted home incorporates beautiful, organic, and non-toxic fixtures and finishes. The curving rooflines, vaulted interior spaces, and abundant daylighting create an open and spacious feel despite its small footprint.
Augmenting its adaptability and sustainability, the Flex House is affordable—the base model ranges in cost from $85,000 to $100,000.
Join us for a look at Next Generation living—visit the Flex House for a personal tour during three upcoming conferences: PCBC (June 2017 in San Diego), Solar Power International (September 2017 in Las Vegas), and CES (January 2018 in Las Vegas).
Want to learn more about the Flex House? Write to me at sara.gutterman@greenbuildermedia.com.
Want to read more? Follow me on Twitter and Facebook. For more information about green building and sustainable living, visit Green Builder Media at www.greenbuildermedia.com, like us on Facebook, and follow us on Twitter for regular updates and breaking news.
###