American Standard Bidet Seats Deliver the Ultimate Personal Cleansing Experience
Jan 9, 2018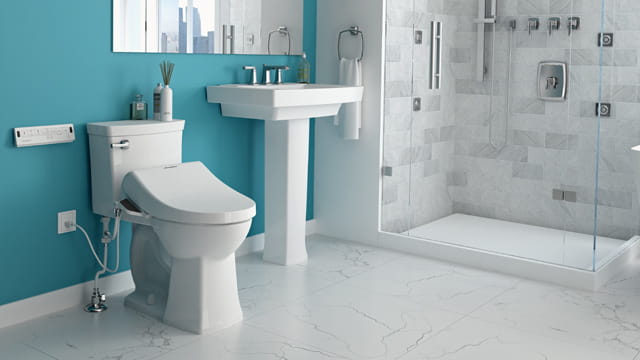 ORLANDO, KITCHEN & BATH INDUSTRY SHOW (January 9, 2018) ― American Standard, the plumbing brand that homeowners have trusted for more than 140 years, is redefining personal comfort and hygiene with the new Advanced Clean SpaLet bidet seat collection. Offered with a choice of control options, these affordably priced bidet seats feature an environmentally conscious design combined with a simple, intuitive interface that allow users to achieve superior individualized cleansing.
Transforming the bathroom into a rejuvenating, spa-like environment, the Advanced Clean SpaLet seats feature two independent, self-cleaning nozzles, providing users with the complete freedom to personalize the cleansing experience. Water spray strength, water temperature, massage spray force, and seat heating can be adjusted to deliver customized comfort and hygiene.
For the user's added convenience, these bidet seats include an activated charcoal deodorizer that is easy to access and maintain. An elongated, slow close seat and lid are detachable with one easy click for thorough cleaning.
Further enhancing the seats, the self-cleaning nozzles are rinsed with water before and after each use, and feature a shutter that covers the nozzles when not being used. In addition, antibacterial protection is applied to the seat, cover, nozzles and control panel to inhibit the growth of bacteria.
The Advanced Clean SpaLet bidet seats are offered with remote control, side panel operation or manual function. They are available at kitchen and bath showrooms and wholesalers nationwide. List prices range from $499 to $559.
To learn more, visit www.americanstandard.com.
###
FOR MORE INFORMATION:
Nora DePalma, O'Reilly DePalma
For LIXIL Americas - American Standard, DXV, GROHE
(770) 772-4726
nora.depalma@betterpr.com

ABOUT AMERICAN STANDARD
American Standard makes life healthier, safer and more beautiful at home, at work and in our communities. For more than 140 years, the brand has innovated and created products that improve daily living in and around the bathroom and kitchen for residential and commercial customers. It has been recognized with more than 35 product innovation and design awards in the past five years. American Standard is part of LIXIL, a global leader in housing and building materials products and services. Learn more at americanstandard.com, or follow us at facebook.com/AmericanStandardPlumbing, twitter.com/AmStandard, youtube.com/AmericanStandard01, Pinterest.com/amstandard, Instagram.com/american_standard.

ABOUT LIXIL
LIXIL is a global leader in the housing and building industry. Our unique portfolio spans everything from technologies that revolutionize how we interact with water in our daily lives, to a full lineup of products and services for housing and major architectural projects. Delivering core strengths in water, kitchen, housing, and building technologies, our brands including LIXIL, American Standard, GROHE, DXV, INAX, and Permasteelisa are leaders in the industries and regions in which they operate. LIXIL operates in more than 150 countries and employs more than 70,000 people, bringing together function, quality, and design to make people's lives better and more delightful – wherever they are.

Learn more at www.lixil.com, facebook.com/lixilgroup and www.linkedin.com/company/lixil-group.

SpaLet® is a registered trademark of AS America, Inc.