Durable Americast Tubs Offer Innovative StanSure Slip-Resistant Finish for Improved Bathroom Safety
Jan 10, 2017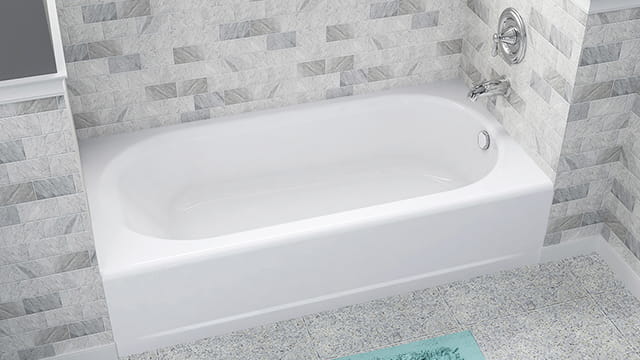 ORLANDO, KITCHEN & BATH INDUSTRY SHOW (January 10, 2017) ― New from American Standard, the brand-exclusive StanSure slip-resistant surface now covers the entire tub floor on all Americast engineered steel bathtubs – already known for their unmatched strength, durability, and ease of installation – providing 56 percent more coverage than previous models.
This new and improved StanSure coating offers increased tub floor coverage to deliver enhanced slip-resistance for bathroom safety on all Princeton, Cambridge and Stratford bathtub models from American Standard.
This upgraded, textured floor surface – now in a visually-appealing bright white hue – does not easily trap dirt, making it easier to clean and keeping it cleaner, longer.

"The exclusive Americast material is unlike anything else available on the bathing market today," said Joe Nuzzolo, senior director of product marketing for bathing at LIXIL Americas, the business unit under which American Standard operates. "It showcases a patented three-layer construction process that results in a product with superior heat retention and noise deadening abilities with a design that delivers beauty, safety and reliability."
StanSure Slip-Resistant Surface
The new StanSure slip-resistant surface provides a safer bathing experience and is also easier to clean without vigorous scrubbing that can damage the tub surface. To help improve bathroom safety, the StanSure surface covers an increased footprint of the tub floor, providing 56 percent more coverage than previous models. The new surface is a brighter white, color matched to the tub, for a more attractive appearance.
Americast Construction
Americast bathtubs – a remarkable alternative to cast iron tubs -- are engineered to create tubs of unequaled strength, durability and weight. It is a unique material that fully bonds a high-quality porcelain enamel surface over a robust layer of enameling grade steel and a thick layer of structural composite backing. This material is similar to that used in the aerospace and automotive industries for lightweight, yet strong, durability.
This exclusive, patented material is considerably lighter than cast iron, making it easier to ship, carry, and install a new bathtub. Americast also offers superior heat retention and noise deadening abilities compared to cast iron and enameled steel tubs.
This durable Americast construction offers a valuable improvement over competing products in the market. Most alternative tubs feature foam or spray-on backing, neither of which is as strong as the Americast material, which will not bend or flex.

Americast tubs offer special features for a more comfortable bathing experience, such as a contoured tub design for increased lumbar support and improved head and neck comfort while bathing. The glossy porcelain enamel surface resists scratches and offers a long-lasting lustrous finish.

All Americast tubs are manufactured in the United States and qualify under the Buy American Act governing purchases made by the U.S. government.
Easy Installation
Designed to simplify installation at every step of the process, lightweight Americast tubs are easily carried by two people and feature a soft grip on the apron for easier handling. Americast tubs are offered in a remodel-friendly size that fits a standard 5-foot alcove with a 30-inch width for retrofit applications.
To decrease the chance that water will damage drywall or structural supports behind the wall, all Americast tub models feature an integrated tile flange. As an additional option, an integral overflow molded directly into the outside tub wall is offered, saving time and money on installation and parts. A pre-installed chrome overflow escutcheon is also available as an option.

A pre-fabricated leveling grid underneath the tub provides extra support to the tub floor to prevent warping and cracking. This grid allows the tub to be easily slid into place or bedded in mortar, while also saving time when leveling.

Offering added flexibility for builders, an optional above-the-floor rough installation leaves a few inches of clearance between the tub's underside and the flooring so that pipe can be routed without breaking ground or relocating the drain.
Americast Tub Models
American Standard Americast tub models that now feature the exclusive StanSure slip-resistant finish include:

Princeton bathtubs with a low, ADA-compliant 14-inch step-over height for added comfort when showering or bathing, in addition to the standard 17½-inch high models. Princeton offers an optional 4-inch wide luxury ledge on the wall side of the tub, providing extra shoulder and elbow room while bathing – plus, it serves as a convenient space for storing toiletries. An optional integral drain model includes a drain that is pre-formed directly into the tub during manufacturing, saving time and money on purchasing and installing a separate drain.
An appealing Cambridge design offered in a sleek bathing pool or whirlpool tub models, both featuring 4-inch wide luxury ledges, an integral apron and a 17¾-inch depth for a deeper soaking experience. Cambridge bathtubs and whirlpools are offered in right or left hand drain options, with the drain purchased separately.
Offered in a choice of drop-in or undermount installations, the stylishly-indulgent Stratford tub models provide an extra deep 20-inch bathing pool for a truly luxurious soak. Stratford is also available as a whirlpool tub.
All three tub models are available in a choice of white, linen, bone and arctic white. Americast whirlpool tubs include the EverClean Whirlpool System, which provides a therapeutic and hygienic water-jet massage.
For optimum cleanliness, the whirlpool pipes incorporate the American Standard exclusive EverClean antimicrobial agent that is manufactured directly into the piping for permanence that will not wear away over time. EverClean inhibits the growth of odor and stain-causing bacteria, mold and mildew on the surface of the piping system.

Americast tubs with the new StanSure slip-resistant surface are available at kitchen and bath showrooms and wholesalers, plus retail outlets, nationwide, and is covered by a limited lifetime warranty for residential installations and a 10-year limited warranty for commercial installations.

List prices for the new Americast tubs range as follows: Princeton $501-$1,053; Cambridge $827-$3,017; and Stratford $1,700-$3,800.
For more information on Americast tubs with the new StanSure slip resistant surface, visit www.americanstandard-us.com or call (800) 442-1902.
ABOUT AMERICAN STANDARD BRANDS
American Standard Brands make life healthier, safer and more beautiful at home, at work, in the community and throughout the world. Offering total project solutions for residential and commercial customers around the world with respected brands such as American Standard®, Safety Tubs®, Crane Plumbing®, Eljer®, Fiat® and Decorative Panels International®. American Standard Brands is part of LIXIL, a global leader in housing and building materials products and services. Learn more at www.americanstandard.com, or follow us at facebook.com/AmericanStandardPlumbing, twitter.com/AmStandard, youtube.com/AmericanStandard01, Pinterest.com/amstandard, Instagram.com/american_standard.
ABOUT LIXIL
LIXIL is the most comprehensive and connected global company in the housing and building industry, delivering human-centric innovation that enhances people's living spaces – we call this Living Technology. Delivering core strengths in water, housing, building and kitchen technologies, our brand portfolio including LIXIL®, GROHE®, American Standard Brands, DXV®, INAX® and Permasteelisa® are leaders in the industries and regions. Operating in more than 150 countries and employing more than 80,000 people, we bring together function, quality and design to provide better living solutions to the world today and for future generations. Learn more at www.lixil.com and follow us at facebook.com/lixilgroup.
Americast®, Cambridge®, EverClean®, Princeton® and Stratford® are registered trademarks of American Standard Brands.

StanSure™ is a trademark of American Standard Brands.
###