Bathroom and Kitchen Images and Captions
Jan 10, 2017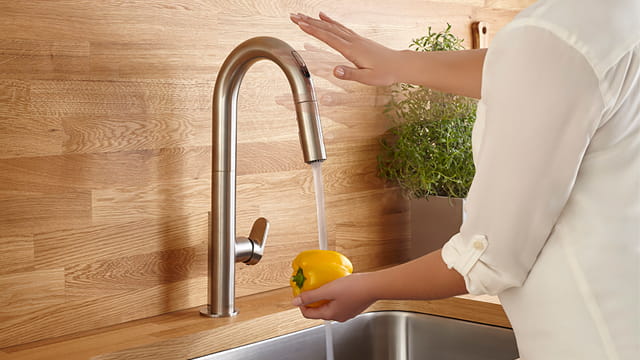 The sleek and stylish Beale Touchless Kitchen Faucet with Selectronic Technology from American Standard helps make common kitchen tasks feel effortless thanks to convenient hands-free operation and a pull-down, 2-function sprayer. The faucet is available in polished chrome and stainless steel finishes, which coordinate with contemporary-styled kitchen appliances and accessories.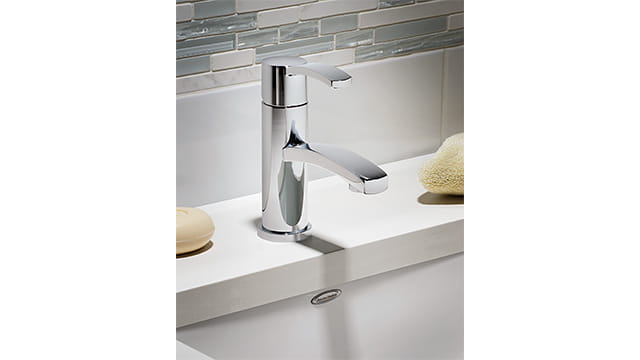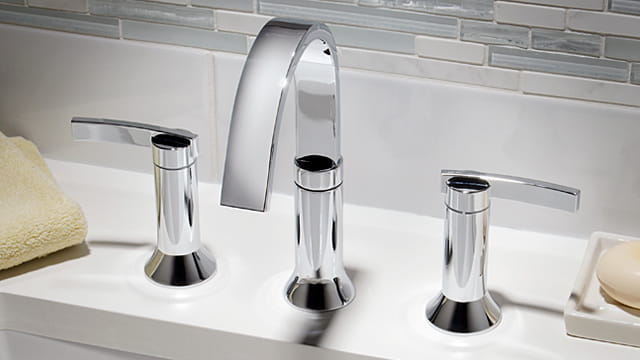 The Berwick Monoblock Bathroom Faucet from American Standard demonstrates symbiosis between fluid elegance and defined precision. This ribbon-like and sleek design has a contemporary yet subtle flair that brings a renewed look to any bathroom. Both the monoblock and the Berwick Widespread Bathroom Faucet are WaterSense-certified to help save water, with a maximum flow rate of 1.2 gallons per minute. Ceramic disc valve cartridges provide a lifetime of drip-free performance. The swivel spout on the widespread model rotates for easy rinsing in hard to reach spots and provides convenient access to the sink basin.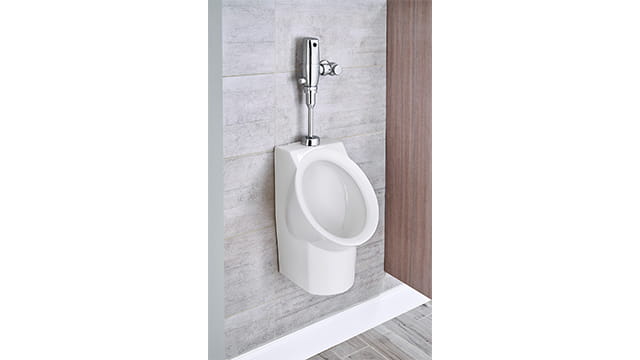 The Decorum One-Pint High-Efficiency Urinal by American Standard features a sleek, compact vitreous china design that is ADA-compliant. The urinal meets ANSI flush requirements at 0.125 gpf, which uses 87 percent less water than a standard 1.0 gpf urinal. It can be used with a Selectronic Exposed Urinal Flush Valve, which includes the optional PWRX Long-Life Battery System for a 10-year battery life to reduce the downtime and maintenance costs associated with changing batteries.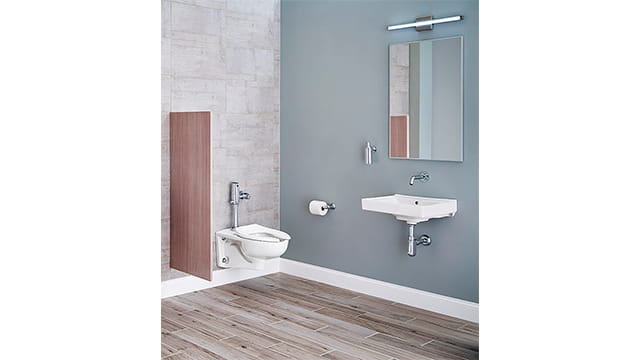 Designed with a self-draining deck for minimal backsplash, the American Standard Decorum Wall-Hung Sink offers modern design lines that can be coordinated to create an inviting commercial suite reflecting sophisticated style and functionality. This ADA and TAS-compliant lavatory is ideal for compact spaces that demand high-end decor.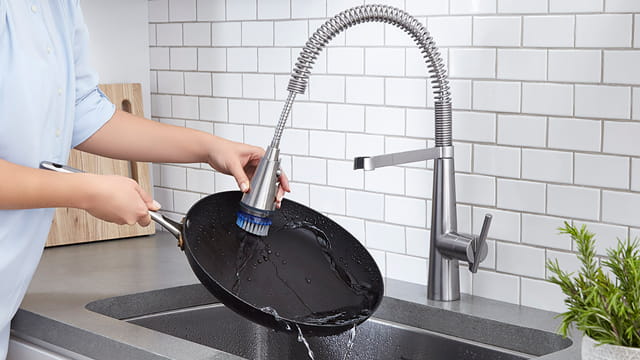 The streamlined American Standard Edgewater SelectFlo Semi-Pro Kitchen Faucet offers a choice of four spray patterns, plus a convenient pause feature, keeping the user in complete control over kitchen tasks.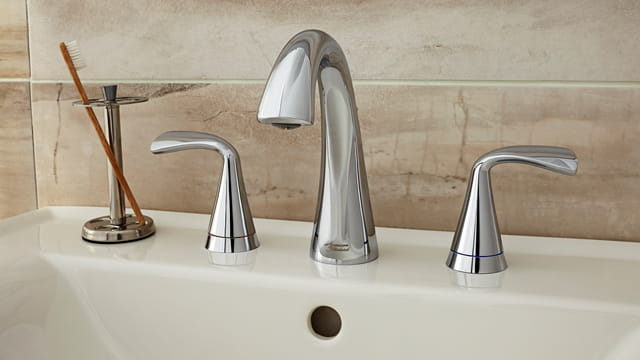 Inspired by the effortless, elegant and continuous movement of water, the Fluent Bathroom Faucet Collection from American Standard captures the pure, ever-changing form and flowing beauty of nature. The collection of faucets also offers technologically advanced function with water-saving performance and easy installation features. The Fluent Widespread Lavatory Faucet (pictured above) features an angled handle design for a more comfortable grip and the option of adding discreet hot and cold color indicators on the handles.
The Pintbrook Urinal from American Standard is a smart, high-efficiency washdown urinal that saves water by operating in the range of 0.125 gpf to 0.50 gpf. The urinal meets all 2016 California water restriction regulations, including CalGreen and CEC compliance. This optimized design is expertly crafted to provide superior splash protection. The ADA-compliant urinal also features a 3/4" inlet top spud, and includes two wall hangers.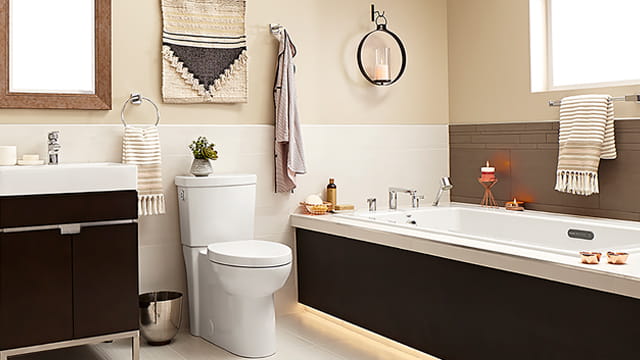 Showcasing minimalistic geometric shapes complimented by rich wood grains and metals, the Studio Collection from American Standard is an attractive bathing solution for hospitality settings as well as for discerning homeowners. The crisp design lines of the Studio EverClean Air Bath are echoed in the Studio Above Counter Sink, the Studio Single-Handle Monoblock Faucet, and the Studio Deck-Mount Tub Filler for a bold, contemporary look. The Studio ActiVate Concealed Trapway Right Height Elongated Toilet features touchless flush technology, which limits the spread of potential germs and bacteria that can be present on a traditional lever design.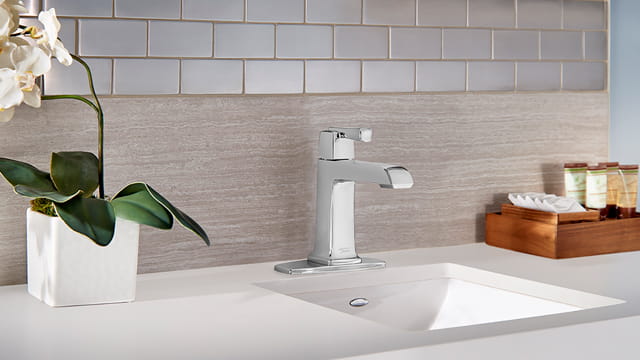 Distinguished by artisanal tapered design recalling the stately shapes of the Manhattan Bridge pediments, the Townsend Single-Handle Bathroom Faucet delivers an unforgettable combination of urban styling and water-efficient performance. Innovative features accompany this impressive design, such as an exclusive Speed Connect metal drain that makes installation easy, and a maximum flow rate of 1.2 gallons per minute that helps save water without sacrificing performance. The Townsend High-Arc Widespread Lavatory Faucet features elegantly crafted handles reminiscent of fine wood joinery and is available in a choice of four designer finishes.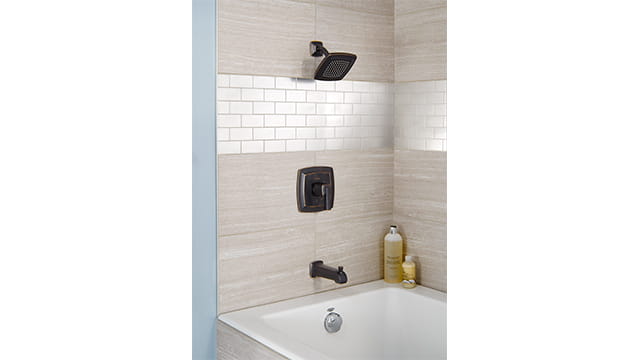 The American Standard Townsend Bath and Shower Trim Kit with Water-Saving Showerhead showcases a luxurious 6-inch showerhead for a truly relaxing bathing or shower experience and is available in a range of beautiful finishes.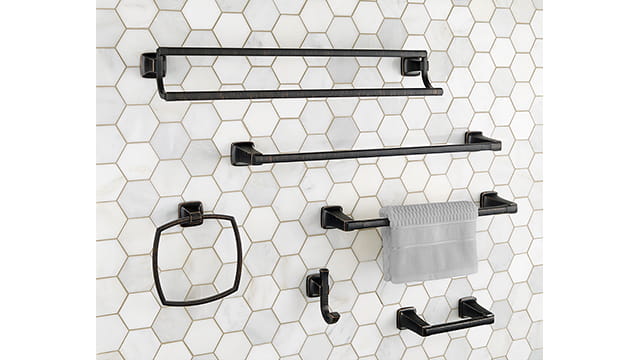 The Townsend Bathroom Accessory Collection features distinguished design lines reminiscent of industrial architecture, all showcased in the single and double bar towel racks, toilet paper holder, robe hook and towel hanger included in this offering.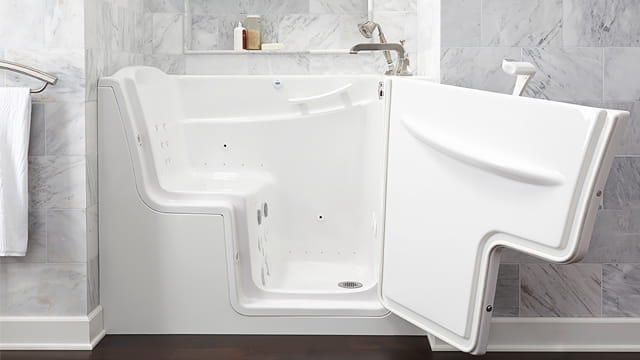 The Walk-In Bath with an Outward Opening Door from American Standard offers a safe, attractive, and convenient way for those with limited mobility to enjoy a bath. The large, outward opening door allows access to the chair height seat, while the textured tub floor and the grab bar add security by limiting the risk of slips and falls. This tub also features a Quick Drain system, which drains the tub in only two minutes.
ActiVate®, Beale®, Berwick®, Decorum®, Edgewater®, EverClean®, Fluent®, Pintbrook®, Quick Drain®, Right Height®, Selectronic®, Studio®, and Townsend® are registered trademarks of American Standard Brands.
Selectronic®, Studio®, and Townsend® are registered trademarks of American Standard Brands.
PWRX™ is a trademark of American Standard.
WaterSense® is a registered trademark of American Standard Brands.
###