DXV 2016 Design Panel Bios and Vignettes
Jan 10, 2017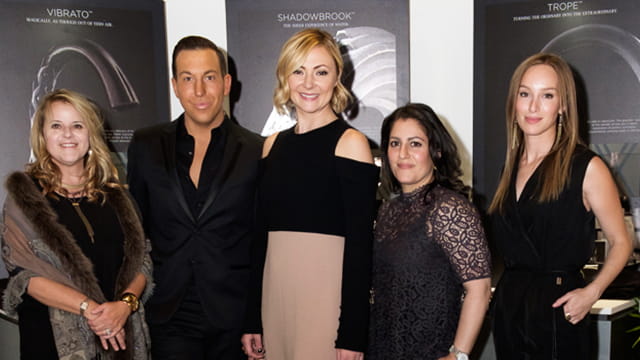 DXV 2016 Design Panel
Marrying timeless products from DXV with equally stunning design choices and accessories, the DXV 2016 Design Panelists celebrate the distinctive styling and evocative design era represented by four iconic cities: Charleston, New York City, Palm Springs and Miami.
Led by DXV Design Counsel Veronika Miller, CEO of Modenus, this year's elite group of distinguished designers pay homage to the architectural milestones and enduring design styles that make these cities famous.
The DXV Design Panel brings together award-winning interior designers with the luxury DXV product portfolio to create inspirational, one-of-a-kind spaces. The inaugural DXV Design Panel debuted in 2014, during the launch of this luxury plumbing showroom brand.
The Company created the DXV Design Panel to share inspirations generated by using the high-style DXV collections. It also encourages engagement in a dynamic two-way conversation with other professionals and interested consumers about the larger universe of opulent design.
These bath and kitchen design projects will be published in the Decade XV resource guide and on the DXV website (dxv.com).
SUSAN M. JAMIESON, ASID
Bridget Beari Designs – Richmond, Virginia
Susan Jamieson, ASID, is the founder of Bridget Beari Designs, Inc., where she works primarily on high-end residential interior design projects in Virginia as well cities such as Atlanta, Chicago, New York, and Florida and internationally in Costa Rica and Mexico.
Her work has been featured in national and local publications such as Traditional Home, Southern Living, Virginia Living, Rhome, The Washington Post and Richmond Magazine. Susan's projects have also been featured on HGTV and TLC. Her daily blog, Bridget Beari, offers interior design and lifestyle tips as well as insights into her design business and travels.
Susan is a regular in giving advice to local newspapers and magazines. Her design philosophy is simple: "Good design comes from the ability to visualize the potential in every space."
Website: BridgetBeariDesigns.com
RICHARD T. ANUSZKIEWICZ
Richar Living Design – Annapolis, Maryland
A graduate of Virginia Tech's NKBA-accredited Residential Design program, Richard T. Anuszkiewicz has received numerous accolades that illustrate his distinctive creativity and jovial personality.
Since being an inaugural NKBA 30 UNDER 30 in 2013, Richard has launched the renowned #FASHIONFORWARD Tour with presentations at premier industry events including KBIS-Las Vegas, and Dwell on Design-Los Angeles, as well as his lifestyle brand Richar Living.
He has been highlighted in numerous high-profile publications, such as The Washington Post's Home Front, The Editor At Large, and HGTV's Designer of the Week. Most recently, he was abroad at Salone del Mobile in Milan 2016 and The London Design Festival 2015 as part of #designhounds.
Website: RicharLiving.com
BETH DOTOLO and CAROLINA V. GENTRY
Pulp Design Studios – Texas and Washington
Pulp Design Studios' thoughtful design philosophy embodies a lifestyle, helping clients tell a story through their spaces and tailoring designs to each client's unique needs and budget, with purpose. Pulp Design Studios is recognized for its modern and livable approach to design, which is infused with personality and a flair for the unexpected.
With its unique "Splendid Living" approach to full-service interiors, Pulp Design Studios creates spaces that elevate its clients' daily experience and improve how they "do life" in their spaces. After all, it's not just about a beautiful space, it's about how you live in it. Beth Dotolo and Carolina Gentry are the cofounders and Registered Interior Designers behind the Pulp lifestyle brand, which encompasses the award-winning interior design firm Pulp Design Studios and an online shop of original designs and curated goods.
Beth and Carolina are experts in residential, commercial, and hospitality interior design, project management, and home lifestyle. As celebrated interior designers, Beth and Carolina author Pulp's popular lifestyle blog and make industry appearances as voices on the latest trends, styles, and design strategies.
Website: PulpDesignStudios.com
GENEVIEVE GHALEB
XYContemporary – Montreal, Canada
In 2014, Genevieve Ghaleb won the very first DXV by American Standard Design Competition in Canada, which allows up-and-coming designers to showcase their talent. Now, in 2016, she is proud to have been selected as Canada's representative on the DXV Design Panel.
With years of formal interior design training and experience, a men's fashion background, and an education in art history, Gen now leverages those experiences to manage XYContemporary, her own boutique interior design firm based in Montreal.
XYContemporary has quickly become well known for its signature, custom-tailored approach to timeless contemporary interiors.
###