How to Measure for a Replacement Toilet
At some point in time, every toilet must be replaced. Whether your toilet is constantly clogging, has surface damages or cracks, or has simply aged excessively, we promise that you will be amazed by the innovations and efficiencies that come with new toilet models. When purchasing a suitable replacement toilet, there are a few key measurements that will dictate your decision - and yes, you can do this on your very own. Keep in mind, the smaller your bathroom, the more important these measurements will be.

1. Tank Height

An important measurement that you will need to take into consideration when buying a new toilet is the tank height. If you have a shelf or any other storage above the existing toilet, you are going to want to make sure that the new toilet will fit perfectly in its space. You will need to place one end of the measuring tape to the floor and measure to the top of the tank. If you have fixed storage located above the toilet, make sure to measure how much room there will be under that storage unit. If you're like us and love placing decorative objects like candles and dried flowers on top of the tank, you will definitely need to have this measurement information.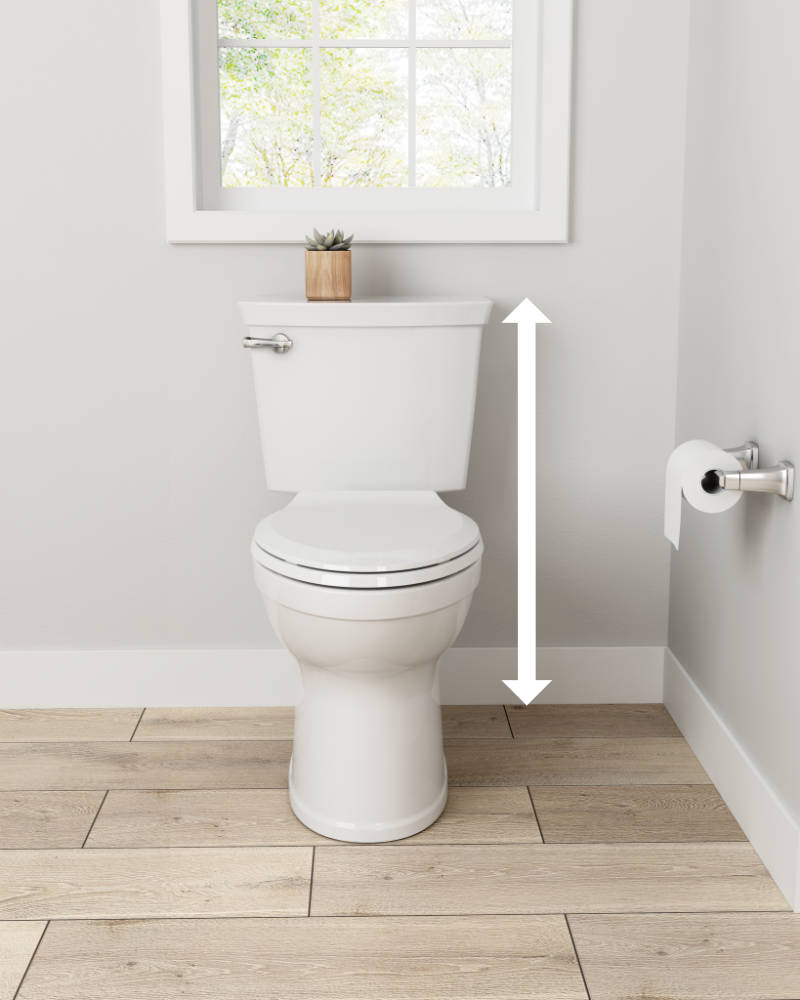 2. Bowl Shape

If you are a seasoned buyer, you will know that toilet bowls come in many different shapes. At American Standard, our toilets are available in "Round Front" and "Elongated" bowls, both of which will protrude out into the room differently. Round Front bowls take up less space, making them a good choice for small spaces and children's bathrooms, while many find oval-shaped Elongated bowls to offer more comfort in larger spaces. To measure the bowl shape, you can start by putting your measuring tape at the back of the toilet, and extend the tape forward to the end of the bowl, measuring parallel to the floor.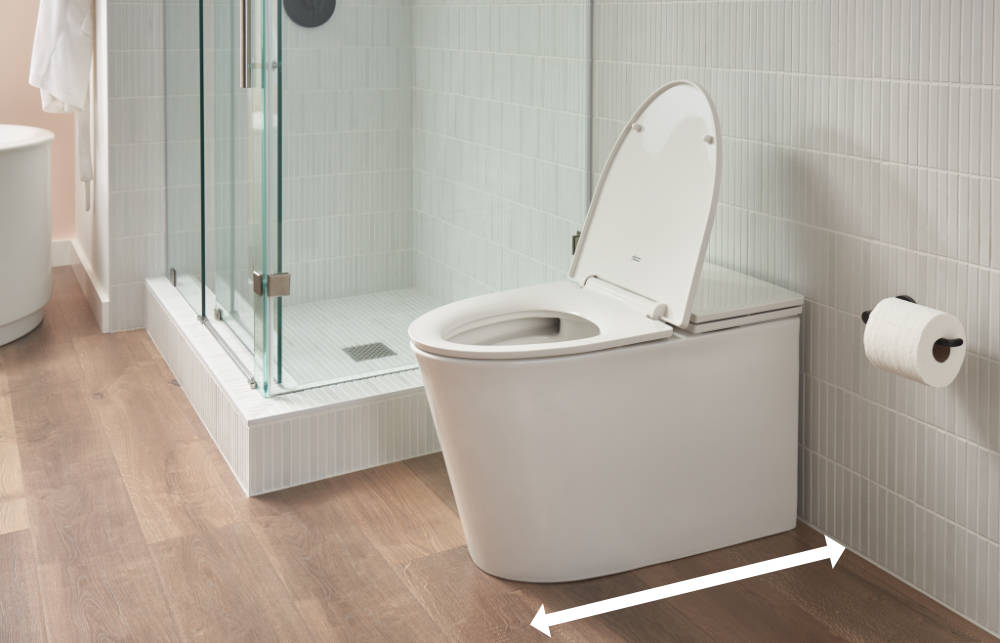 3. Rough-In Dimension

The most important measurement you can take for a replacement toilet is the rough-in dimension. This is the distance between the bolts that hold the toilet to the floor and the wall. Make sure you measure from the centre of the bolts, up to the drywall (as opposed to the baseboard). If there are four bolt caps, be sure to measure from the center of the rear set. Toilets come in 10'', 14'', and most commonly, 12'' rough-in dimensions. Double checking this is an absolute must before purchasing a new toilet.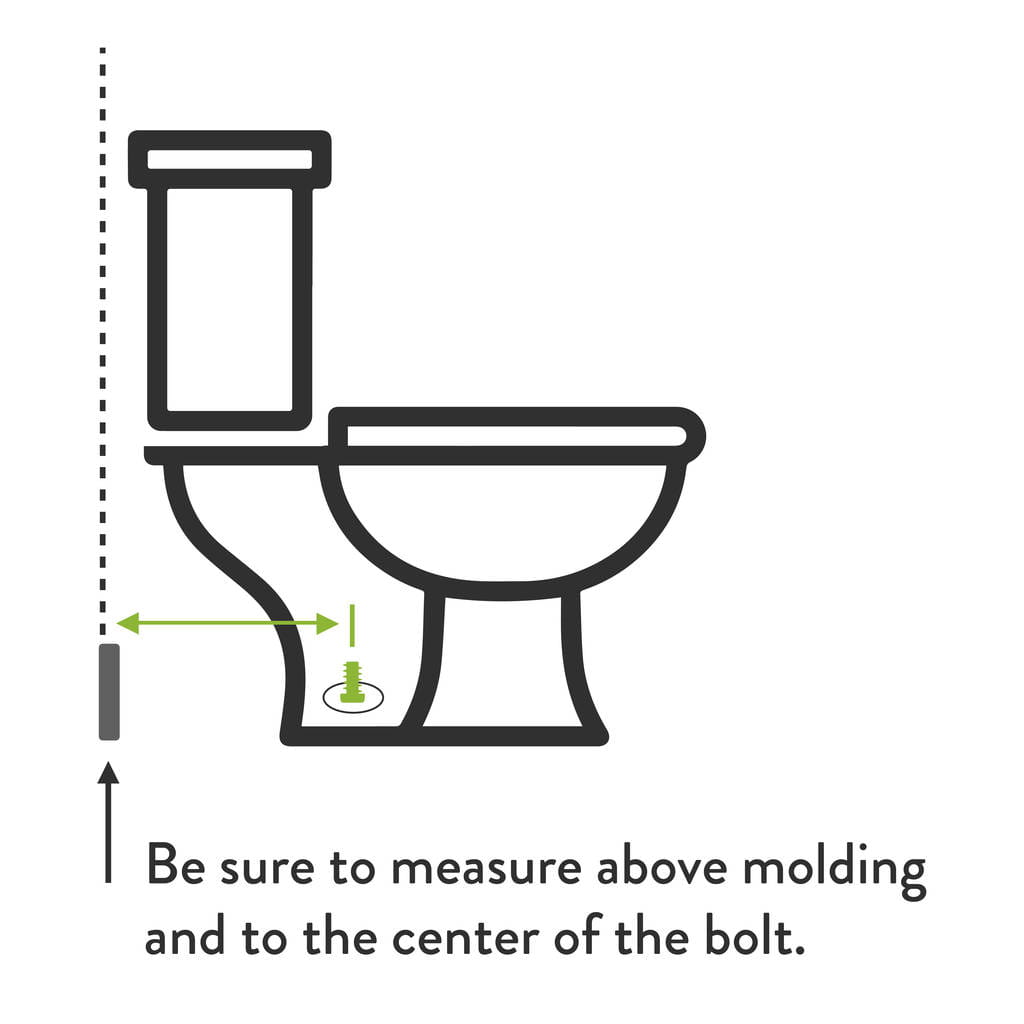 4. Any Other Barriers

If this is the first time that you've replaced your toilet, you may run into barriers like water lines, valves, or an extra thick baseboard. If you are looking to purchase one of our newer skirted toilets, such as our new Studio S two-piece or one-piece toilets, keep in mind that these extend the bowl all the way to the floor and right back to the wall. Be sure to take into account any obstructions you may run into. If you are still feeling unsure about the replacement process, feel free to give us a call at 1-855-836-9615,as we'd love to provide you with support.

Looking for further assistance? Be sure to bring these toilet measurements to a home improvement store near you to purchase an American Standard toilet that will fit perfectly in your existing bathroom space. As always, we look forward to assisting in enhancing your bathroom experience.
Love, American Standard
How to Measure for a Replacement Toilet


Learn More from American Standard