It's All in the Details – Tovah Novak's Bathroom Reveal
We took on a bathroom renovation a little over a month ago and I'm so excited to finally be sharing the reveal with you all here! It was a dream come true to be able to partner with American Standard for this renovation because not only are they industry leaders in bathroom fixtures, but their faucets, tubs and toilets are some of the most gorgeous and thoughtfully created pieces I've ever seen!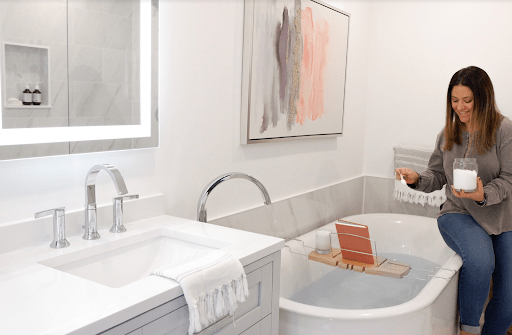 The Process
Renovations can often be a bit intimidating and with so many options for fixtures and finishes, it can be challenging to know where to start or what to look for! Thankfully, American Standard has a huge selection of styles, finishes and products to choose from so whatever your budget or vision is, you'll be able to find the perfect selection on
americanstandard.ca
My inspiration for our ensuite bathroom was a serene spa-like oasis. I wanted it to feel like I was stepping into a luxurious and relaxing spa environment every time I was in our new bathroom! I wanted faucets that were modern and sleek, shower fixtures that had a variety of water settings, but also looked gorgeous, a soaker tub that was not only a statement piece but also allowed for a deep and relaxing soak, and then finally, a toilet that wasn't an eyesore, but instead flowed perfectly with our bathroom design. American Standard delivered on every single one of my wants and needs, and each piece came together perfectly to create the ultimate relaxing spa-like space in my very own home!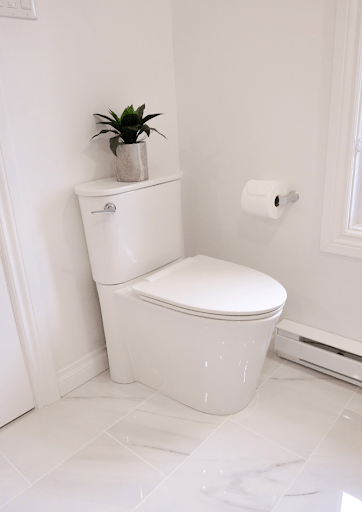 The Products
Have you ever had a toilet that you LOVED? Me neither, until we ordered the
Studio® S Right Height Elongated Toilet with Seat
. Its minimalist and sleek design makes it beautiful, but my favourite features are the PowerWash™ rim and the EverClean® coating! The PowerWash™ rim releases a surge of water to scrub the bowl with every flush, which I'm pretty sure is every mom's dream, and the EverClean® coating inhibits the growth of stain and odour-causing bacteria, mold and mildew on the surface! I think I may need to replace every toilet in my home with this one.
For the tub, we chose the Studio® S Oval Freestanding Soaking Tub that is made from premium acrylic with a high-gloss UV and stain-resistant surface. Its sleek contemporary design easily integrates into any bathroom beautifully. A big soaker tub was high-up on our want list and the Studio® S Oval Freestanding Soaking Tub from American Standard is 68 inches long and has a 17 inch soaking depth for an ultimate deep soaking experience!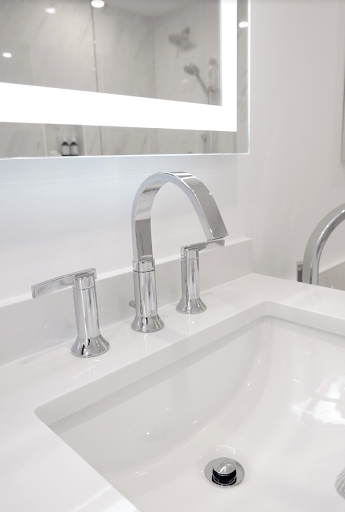 Good quality faucets are vital fixtures in any bathroom space and I believe it's safe to say that I'm obsessed with the ones we chose! We chose the
Boulevard Widespread Bathroom Faucets
and the Contemporary Square Freestanding Tub Faucet as they're both sleek and sophisticated and easily work in any bathroom design.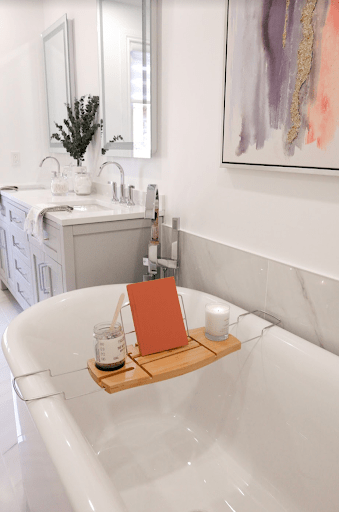 For our shower, we chose the
Spectra Plus Handheld 4-Function Hand Shower
and the
Spectra Plus Fixed 4-Function Shower Head
. My favourite feature has to be the unique 4 spray functions on both shower heads that range from drench to sensitive, to jet to PowerWash™ so you can enjoy the ultimate personalized shower experience. It also has a pressure-compensating flow control device, so if the water pressure drops, it will still provide a constant flow of water. This means that you can enjoy an uninterrupted shower even if your kids are flushing the toilet and turning on and off the taps 100 times while you're in there!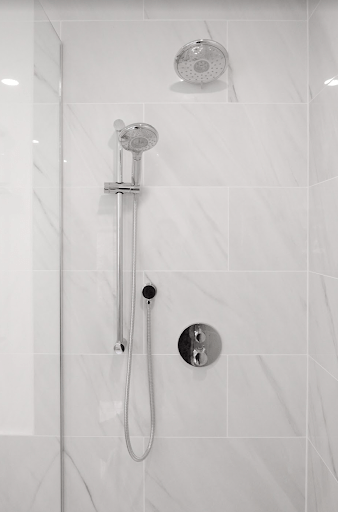 Bathroom design choices are really personal because everyone has their own functional and aesthetic preferences, so I really encourage you to check out American Standard's offerings to find the perfect fixtures for your next bathroom refresh - can be a simple upgrade or a full renovation! I'm sure you'll fall in love with their designs, just like I did, and watch your bathroom dreams finally come true.
Tovah Novak is a lifestyle influencer based in Montreal, Quebec who enjoys sharing her personal experiences with travelling, baking, home decor, fashion and parenting. As a mom to two young boys, Tovah loves sharing her favourite tips and tricks for a happier and healthier lifestyle. Visit the links below to learn more:
Tovah Novak Instagram: https://www.instagram.com/tovahnovak/

Learn More from American Standard