Flash® 3-Way Integrated Shower Diverter Rough-In Valve with Pressure Balance Valve Cartridge
COMPACT DESIGN — Smaller body fits in tight spaces
EASY TO INSTALL — Flat back mounts securely on cross brace
3-WAY DISCRETE FUNCTION — Optional shared function capability
Product Description
The Flash 3-Way Integrated Shower Diverter Rough-In Valve, with pressure balance valve cartridge, is an innovative design developed by American Standard to make installation easier and showering more enjoyable. Featuring a flat back for flush mounting on the cross brace, and a compact body to accommodate tight spaces, the Flash Integrated Diverter Rough-In Valve delivers unmatched convenience and versatility. The pressure balance valve cartridge is equipped with ceramic disc valve and ceramic pressure balancing spool to ensure drip-free performance, a reduced risk of scalding, and resistance to harsh water conditions for exceptional durability and lasting performance.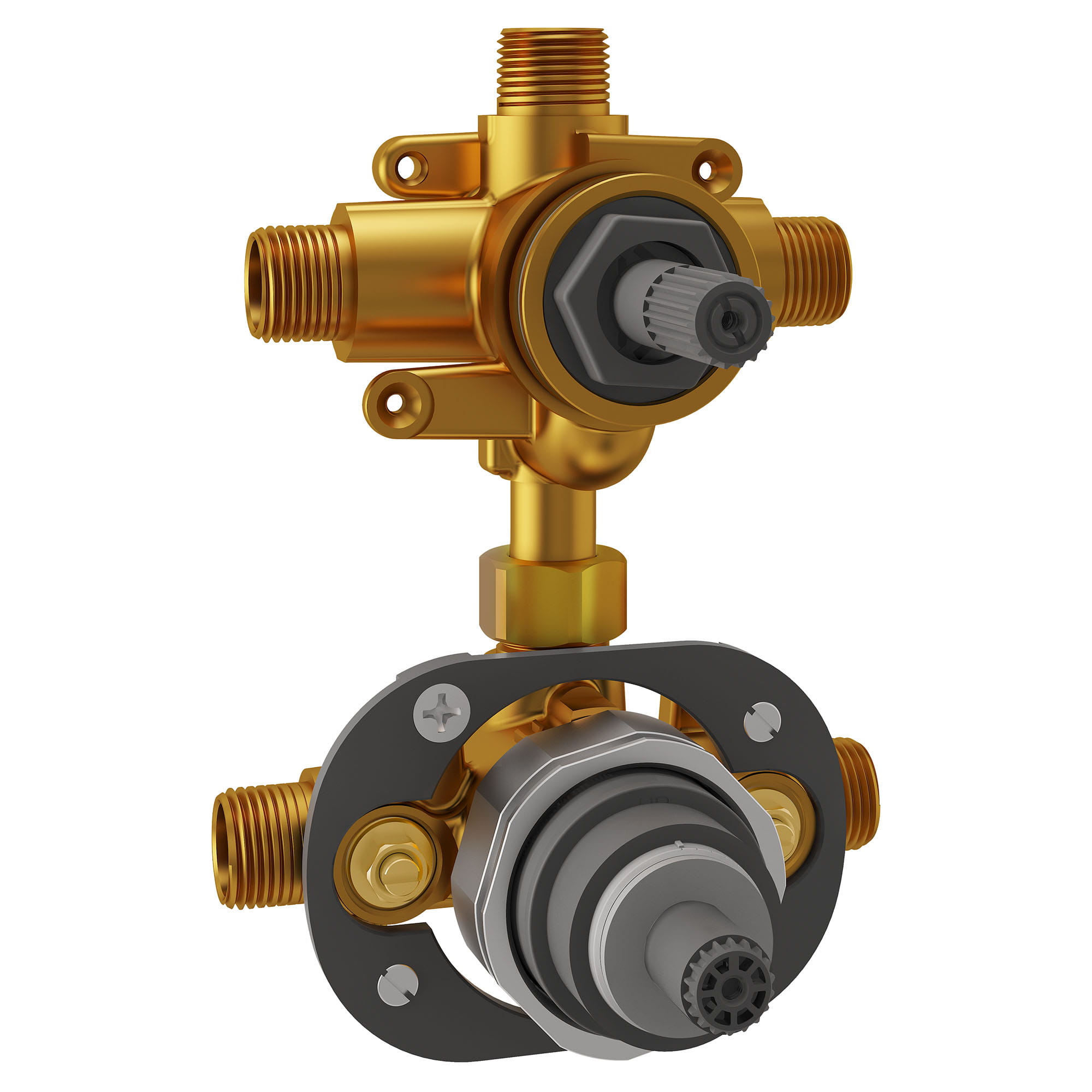 Flash® 3-Way Integrated Shower Diverter Rough-In Valve with Pressure Balance Valve Cartridge
Features
VERSATILE INSTALLATON — Compact body and flat back for easy and solid installation
3-WAY DISCRETE FUNCTIONALITY – Provides the ability to alternate water flow among 3 separate outlets
OPTIONAL SHARED CAPABILITY - Provides the ability to share water flow simultaneously from any 2 outlets with the addition of shared cartridge, M970730-0070A, sold separately
150° COMFORT RANGE — Provides a wider, more usable temperature range when fine-tuning water for the perfect shower
NO SOLDERING REQUIRED — Solid brass inlet connections for fast installation without adaptors, reducing leak points
QUALITY PRESSURE BALANCE VALVE — Double ceramic technology ensures faster adjustment to changes in water pressure to eliminate scalding, and a guarantee of drip-free performance for life
EXCLUSIVE PLASTER GUARD — Protects valve and acts as a guide during installation; can serve as mounting support for thin-wall installations
SELF-ALIGNING SCREW HOLES — Screw holes are easy to find; simplifies reattaching plaster guard to valve body
EASY SERVICING — Screwdriver stops for servicing at the valve
COMPATIBLE TRIMS — Designed for use with select American Standard trims: Town Square S, Townsend, Studio S, Delancey, Serin and Times Square
Parts for this product
Following are the list of products or parts which you can also add to your list along with the product, you can also download the parts diagram by clicking on the Download Repair Parts Diagram button
Contact American Standard
LIXIL Canada Inc.
5900 Avebury Road
Mississauga, Ontario
Canada L5R 3M3
Toll-Free: 1-855-836-9615