How to Choose the Best Sink for Your Bathroom
An essential fixture that's often overlooked, your bathroom sink can make a statement when it's best suited for your space. From size, to shape, to mounting type, these key features can make for a functional yet eye catching ceramic piece that perfectly elevates the bathroom. Read on to learn how to choose the best sink for your bathroom and what characteristics to keep in mind when on the market for a new one.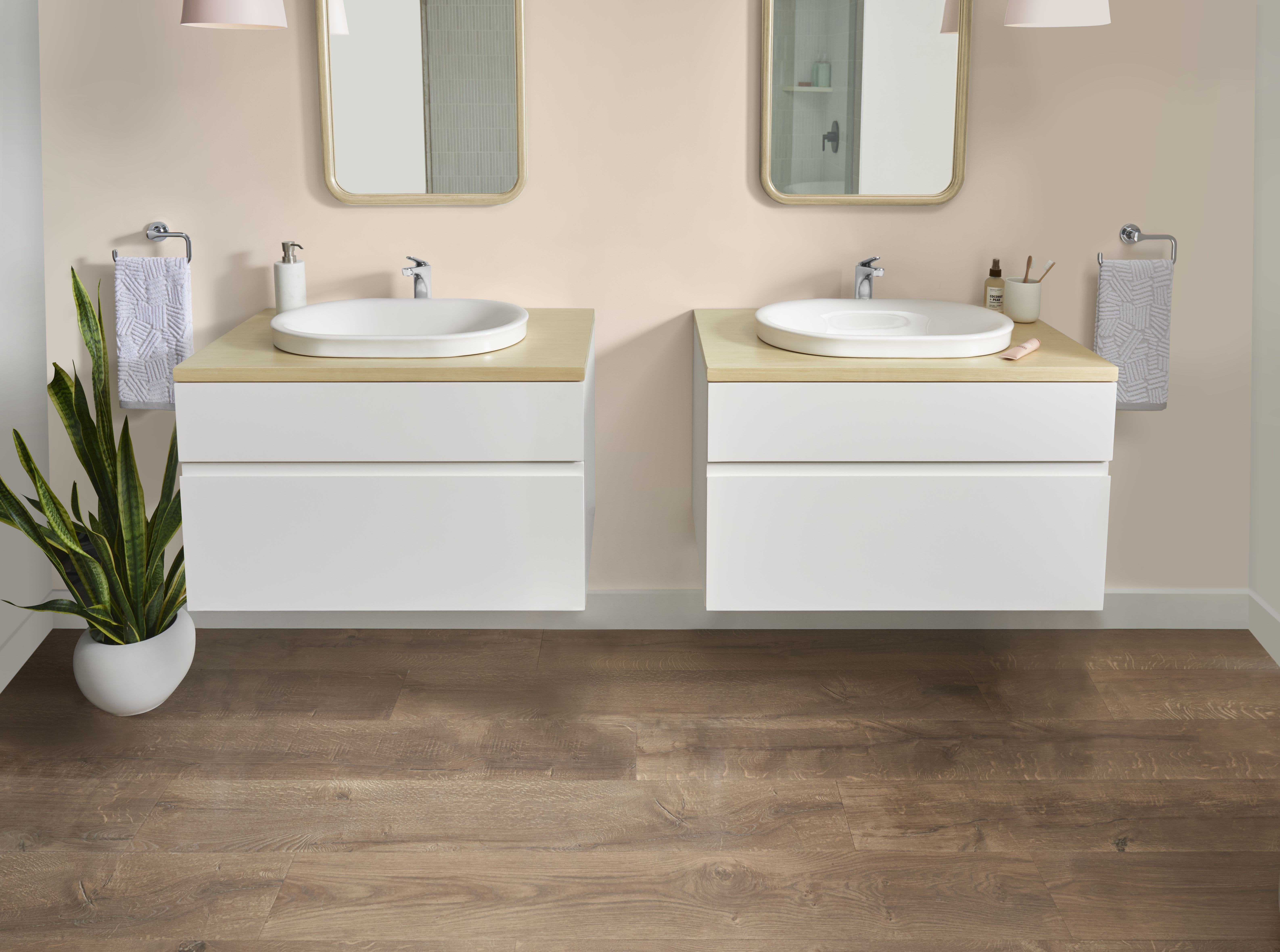 1. Size
Whether you are replacing an existing sink or installing a new one, start your search for the perfect sink with a measuring tape. If replacing a sink, measure the length, width, and depth of the existing basin to know the appropriate dimensions. If starting from scratch, measure the available space for the vanity, floating sink, or console, while also assessing traffic flow and access to a water supply, to understand your size and location limitations. When looking at different sink sizes, it's also important to consider your bathroom dimensions - a luxuriously large basin in a small bathroom could create a disproportionate and unbalanced design.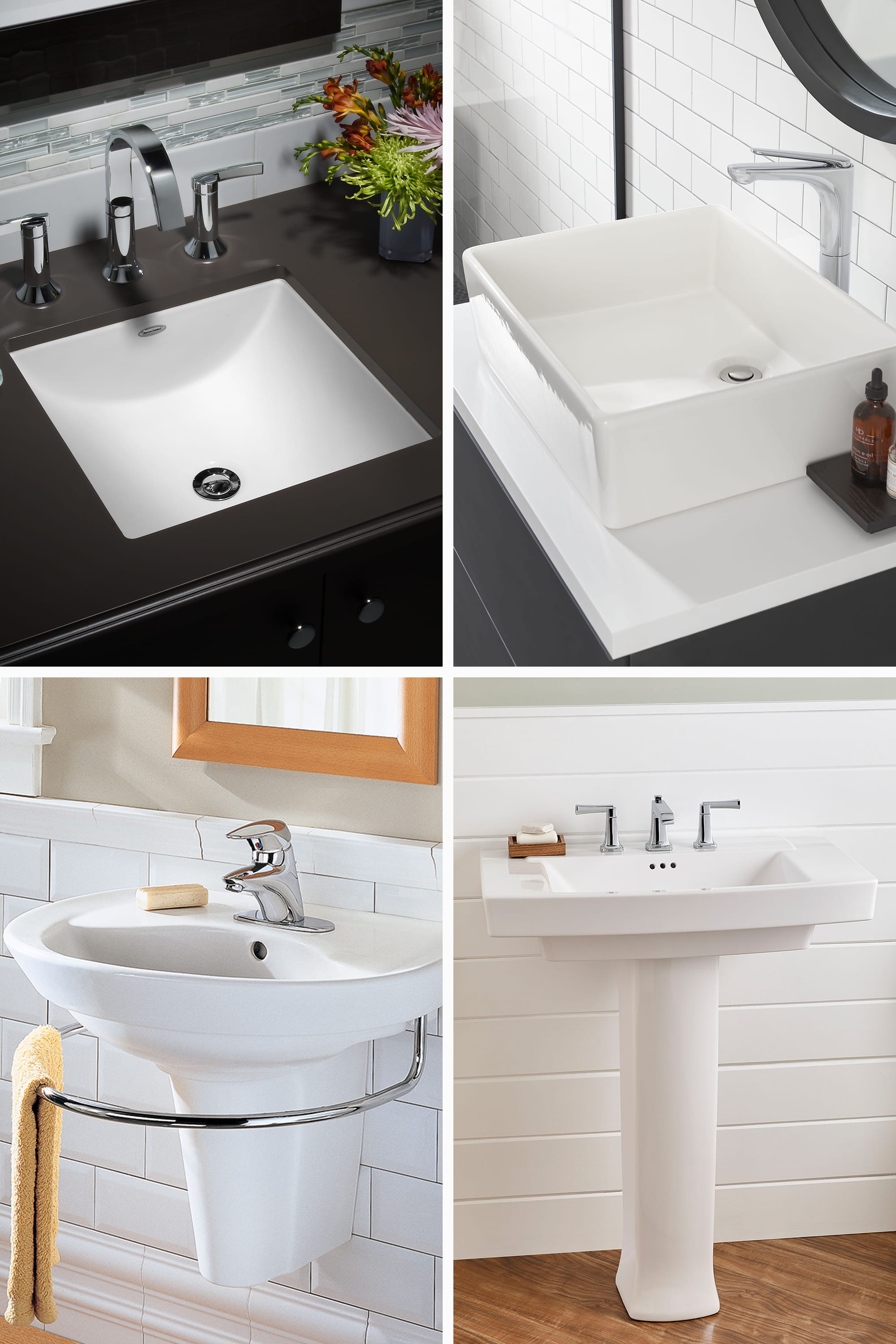 2. Mounting Type
Once you have an idea of size, it's time to look at the different mounting types offered for bathroom sinks. With so many options available, we've broken down the most popular sink types and their benefits to help ease the process.
•
Undermount
:
Undermount sinks
sit under the countertop for a seamless, fresh aesthetic. One of the more popular and common sinks, this mounting style is ideal for busy families as it's easy to clean. When looking at undermount sinks, it's essential to assess your countertop material as undermount sinks require a solid surface countertop (like stone) so it can be sealed against moisture.
•
Above-Counter or Vessel Sink
:
Above-Counter and Vessel sinks
sit atop the counter to create drama and a focal point in the bathroom. Suitable with most countertop materials, these sink types are versatile and easy to install for a more cost-efficient option. Most Above-Counter sinks like the
Studio Wall Mount 22" Bathroom Sink
can also be used as a wall-mounted sink for variety and flexibility. However, because these sinks add substantial height, they require homeowners to be mindful of the vanity and console height for comfortable use.
•
Wall Mount
: Just as the name suggests,
Wall-Mounted sinks
are mounted directly on to the wall without the need of a vanity or console to support it. By eliminating heavy furniture, these floating sinks help to save space and make the room appear larger with more floor real estate, while also allowing for wheelchair-friendly configurations. However, this open concept provides less storage and counter space.
•
Pedestal
: A more traditional sink-type,
Pedestal sinks
are another great option for smaller bathrooms that are limited in space. Using a p-trap that enters the wall just below the sink top, the column-like design conceals pipework for an uncluttered aesthetic and optimizes floor space for efficiency. However, the unique design offers minimal counter space and is more susceptible to water spillage.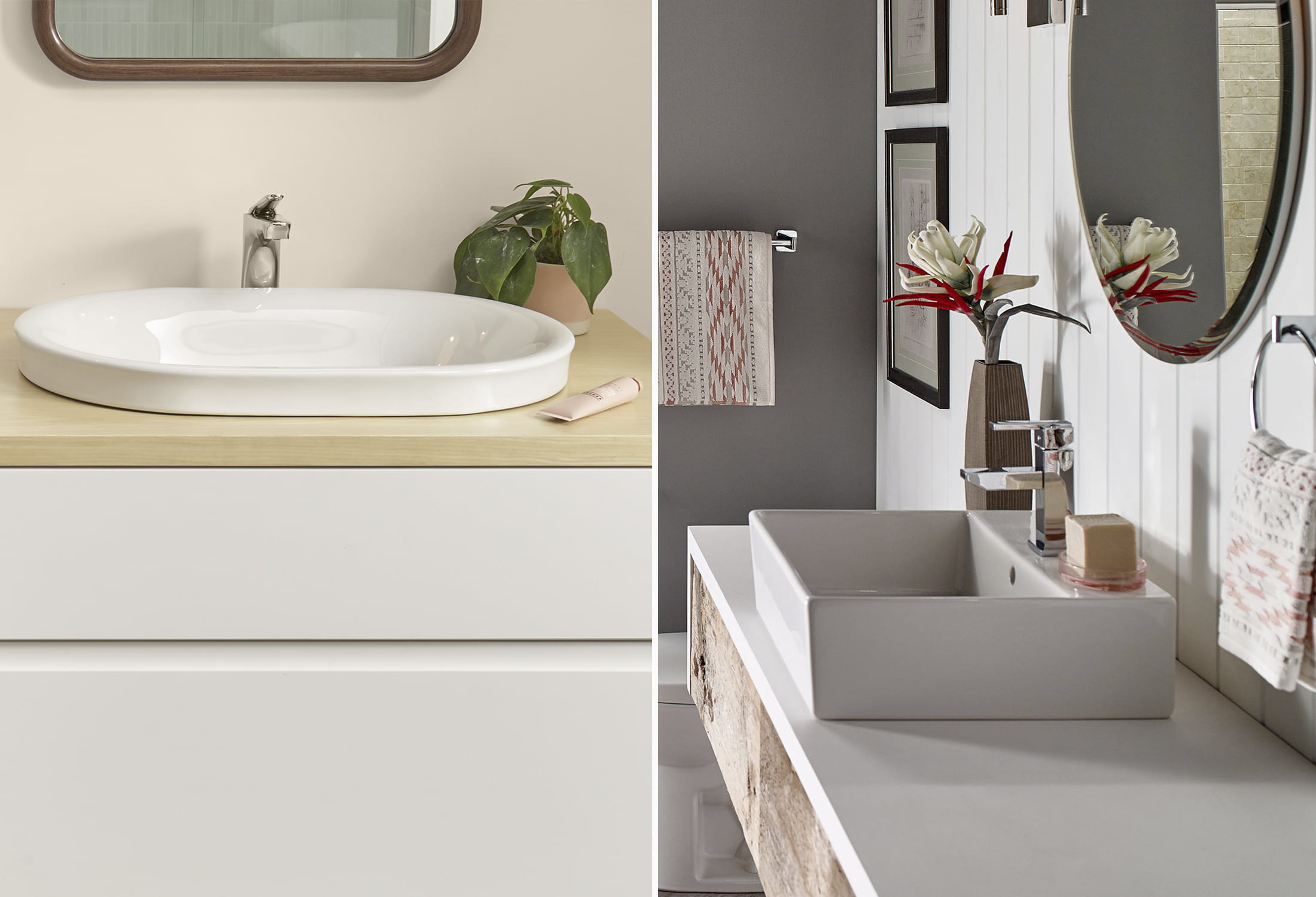 3. Design Style and Shape
As home decor styles have evolved, so have the forms and shapes of a bathroom sink. Just like a bathroom faucet or vanity, a sink can help exude a particular design style across your bathroom using certain shapes and features to help create a cohesive look. For example, a round or oval sink with organic curves like the
Studio S Collection
's bathroom sinks, offers a more contemporary design, while square and geometric sinks like those from the
Loft Collection
appear more modern. For a classic and traditional bathroom, look for faceted edges and rims to add ornate details throughout the space.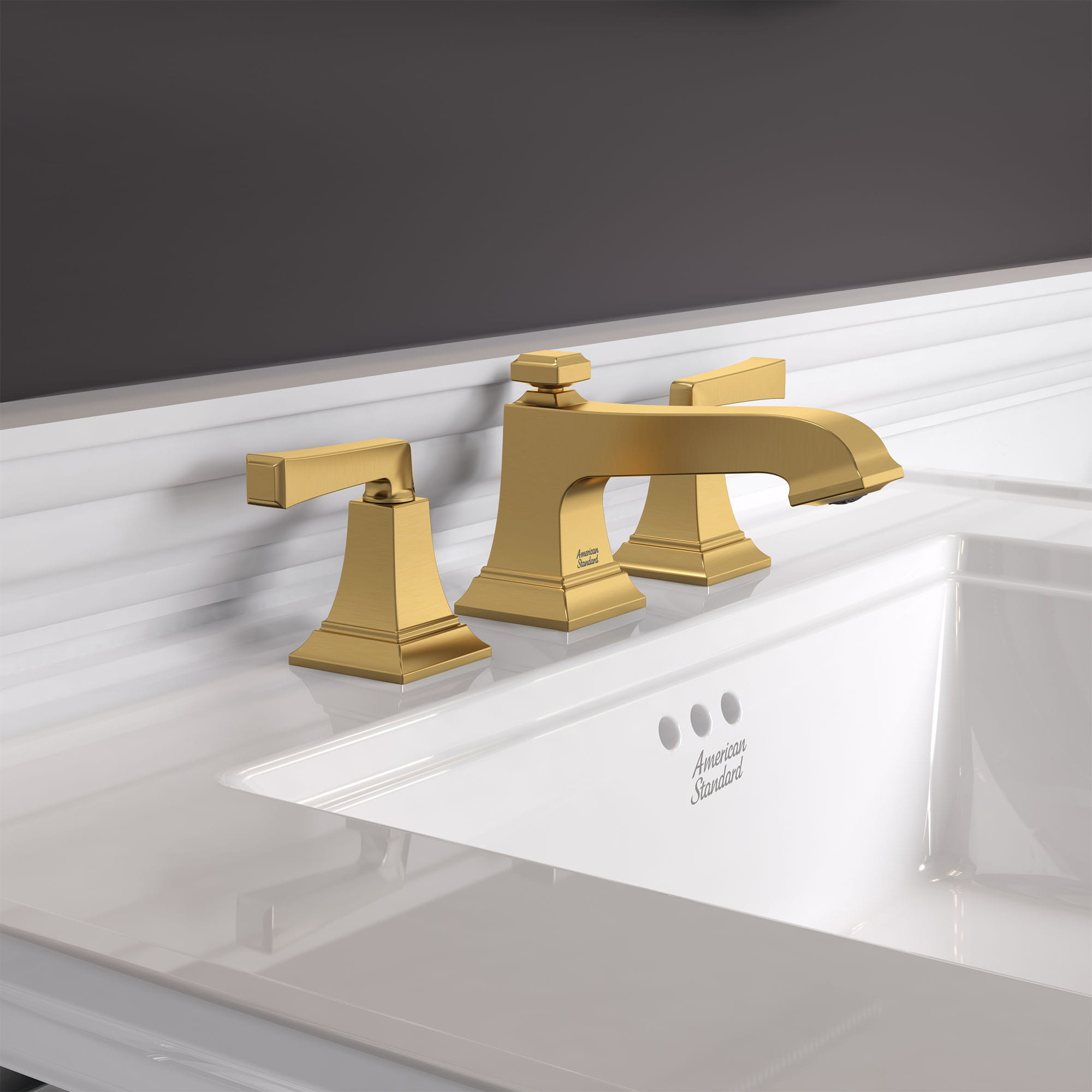 4. Faucet Configuration
A bathroom faucet and sink not only have to look good together, but they have to function in tandem. When shopping for a bathroom sink, keep in mind your current or future faucet so the sink's pre-drilled holes can match the faucet configuration. There are three sink options based on faucet types: single-hole for single handle faucets, 8" with three-holes for widespread faucets, and 4" with three-holes for centreset faucets. Oftentimes, a single-handle faucet can also be installed on a three-hole sink using an escutcheon or cover plate to conceal the unused holes.

Vessel sinks and undermount sinks likely don't require pre-drilled holes if the faucet is mounted on the countertop, but they still have their own faucet needs. Vessel sinks for instance are often paired with a high spout faucet, and shallower undermount sinks may need a low-spout faucet to avoid over splash.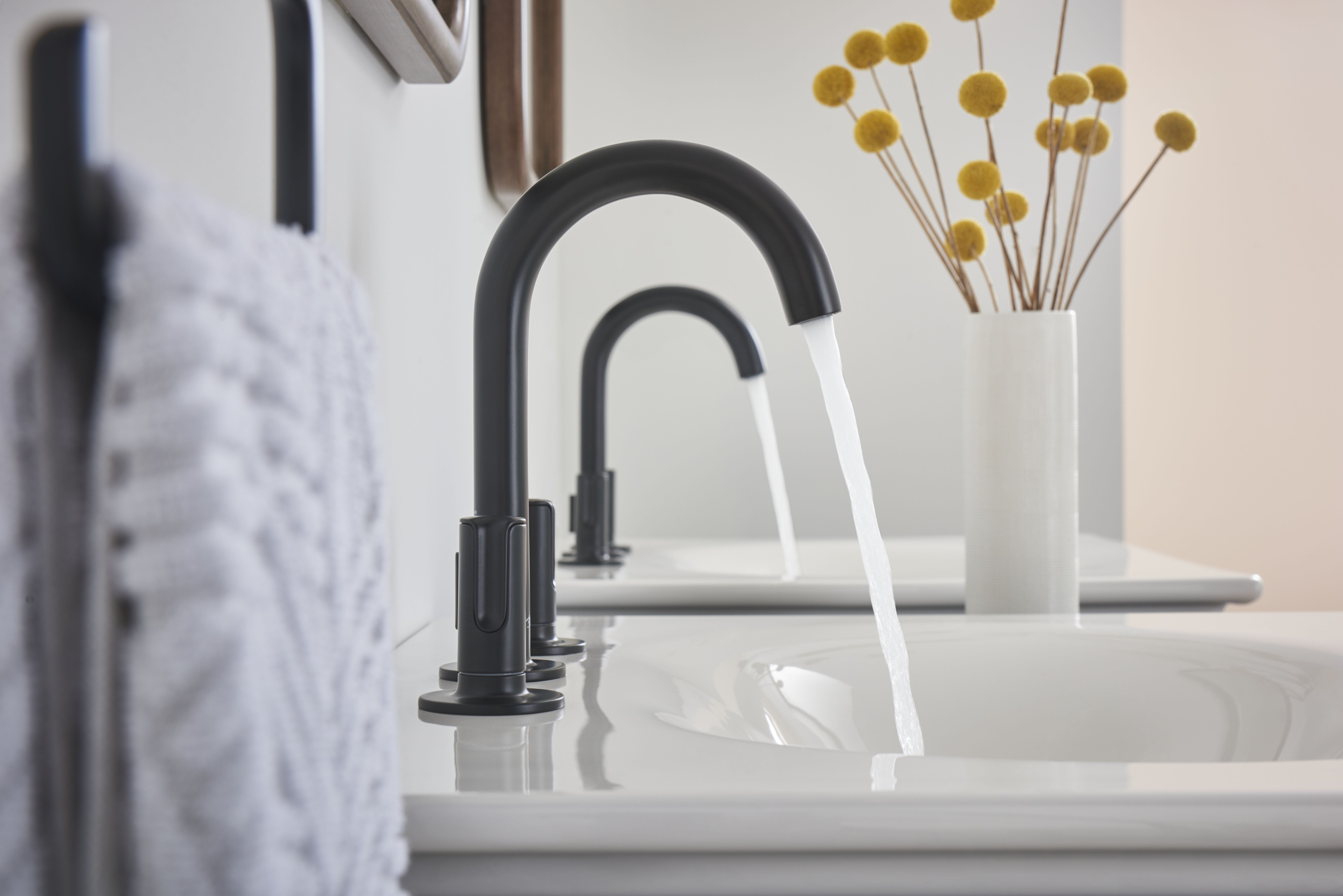 5. Material
Today's bathroom sinks are now offered in a variety of materials that can make a grand statement in the bathroom, but depending on your lifestyle and plans for the space, certain materials may be better suited for your bathroom than others. Porcelain is the most popular option for bathroom sinks as it is durable and often glazed with a protective coating for quality appearance and easy maintenance.

Metal, cast iron, stone, and glass can all be molded into a basin of varying sizes and shapes, but are more vulnerable and need a higher level of care. Copper sinks for example require a special cleaner and wax, while glass is delicate and easy to crack. If looking at unique material options for your sink, check the installation and maintenance requirements to ensure it's the best fit for your bathroom.
Put the finishing touches on your bathroom with American Standard's bathroom sinks.

Learn More from American Standard