How to create a budget-friendly bathroom that looks like a million bucks
Looking to renovate your bathroom, but worried that your budget will prevent you from achieving the bathroom of your dreams? There's no denying that bathroom renovations can become quite costly, which is why we've come up with 5 easily attainable re-modelling tips to help you bring that oasis to life, all while staying within budget.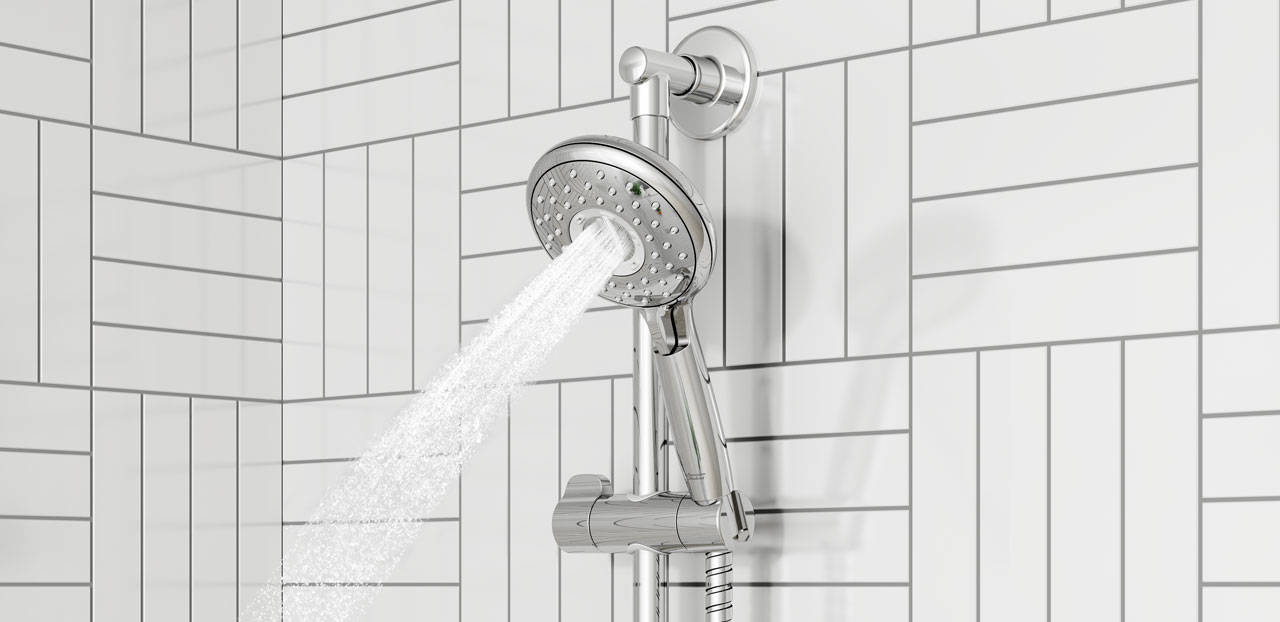 Refresh your faucets and shower heads
When considering the main focal points of any bathroom, we can agree that the sink draws plenty of attention. To give your bathroom a fresh new look, consider swapping your old faucet for one that is both sleek, simple and a hassle-free DIY project. The
Studio S Widespread Bathroom Faucet
is the perfect choice as it features a geometric design with soft edges, providing an elegant update for modern bathrooms. This faucet also happens to be WaterSense certified, which provides up to 32% water-savings in comparison to standard faucets.
Already have a fairly new bathroom faucet? Consider purchasing a new stylish and eco-friendly shower head to reinvigorate your bathroom space. Your bathroom is meant to be your personal refuge, and a good-quality shower head will allow you to feel like you're at the spa every time you step into the shower. This Spectra Filtered 4-Spray Hand Shower Rail System will transform your showering experience with four spray functions, from a drenching rain to a pulsating massage. Your skin and hair will thank you with its' brilliantly designed water filter that reduces up to 50% of chlorine in your shower water. Similar to the Studio S Widespread Bathroom Faucet, this shower system is WaterSense certified, saving water and in turn, reducing your ecological footprint.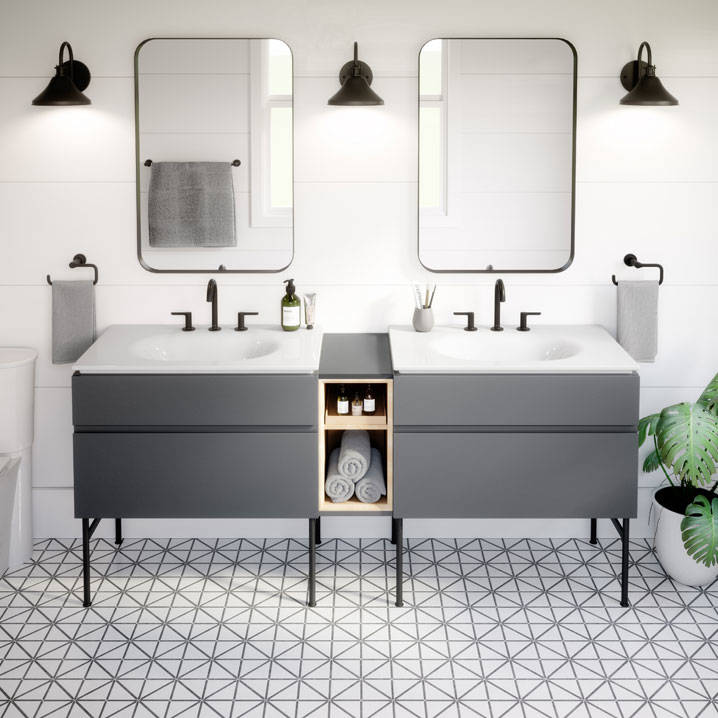 Refurbish your vanity with new cabinet hardware
Buying and installing brand new bathroom cabinets can often get expensive and overwhelming. A far easier and less costly solution would be to simply update the cabinet hardware. This would assist in bringing the vanity to life, while subtly altering the bathroom's aesthetic. If you're looking to achieve the modern bathroom of your dreams, matte black knobs or pulls would definitely do the trick, and pair beautifully with the matte black
Studio S Widespread Bathroom Faucet
. However, if you're looking to design a more traditional bathroom, bronze or brass tones would be the better hardware choice.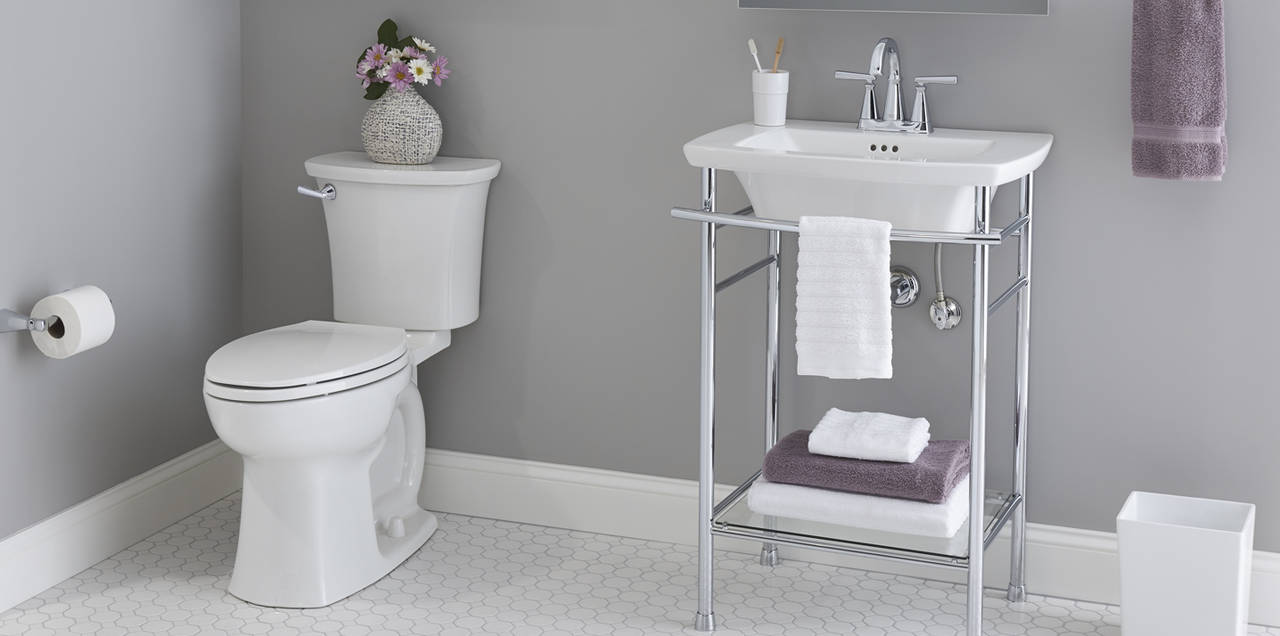 Repaint the interior
A surprisingly dramatic way to reinvigorate your bathroom is to simply repaint the walls. This is not only a budget-friendly option, but also will significantly contribute to a brighter and more welcoming space. By choosing light and neutral tones, your bathroom will feel more calm, clean and inviting. In taking this on, in addition to color choice, you should also consider the effects moisture on the wall paint. With humidity often leading to mold and mildew, it's key to invest in specially designed paint for high-moisture areas. We recommend that you purchase high quality paint featuring a satin finish.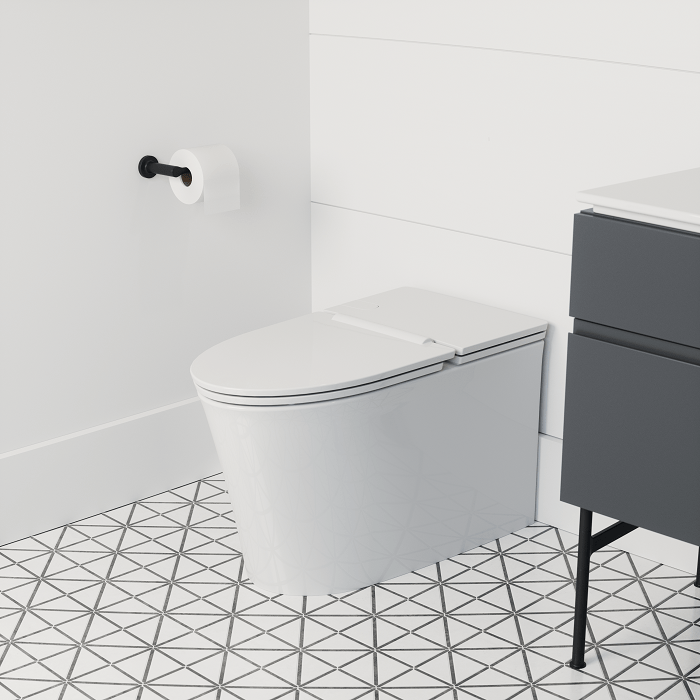 Save money with a low-flow toilet
If you have a bigger budget to work with, investing in a low-flow toilet is a smart investment that will save you money long term. The
low-flow Studio S Right Height Elongated Low-Profile Toilet with Seat
features a sleek, tankless design that includes the innovative PowerFlo flushing technology. This water-saving system uses only 1.0 gallon per flush, while completely clearing the bowl the first time around. With its contemporary tankless design, this environmentally-friendly toilet will become the new focal point for any bathroom makeover.
Bring in the light - Update the light fixtures
The lighting in any bathroom has the potential to completely change the look and feel of the space. A budget-friendly renovation tip would be to swap out your existing vanity lighting for a modern and sleek alternative. You may also then decide to add lighting in areas that you find to be too dark such as in the shower or above the toilet. Whether you are looking to achieve the contemporary or modern bathroom of your dreams, there are many different lighting fixture options available at all hardware stores.

Love, American Standard

Learn More from American Standard