DXV SpaLet AT200 Luxury Smart Toilet Combines Modern Design with the Latest Automated Technology
Jun 28, 2017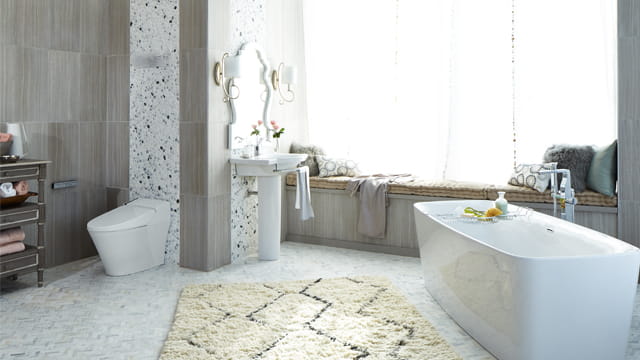 SAN DIEGO, PCBC (June 28, 2017) ― Thoughtful design, soothing self-indulgence, and a heightened sense of comfort: welcome to your personal day spa. Sleek and sophisticated, the SpaLet AT200 luxury dual-flush toilet with indulgent bidet functions is a luxury fixture that combines peerless design, advanced technology and flawless engineering to transform your daily ritual of visiting the bathroom into a pampering and rejuvenating experience.
Designed with your individual comfort in mind, this electronic dual-flush smart toilet provides not only an enhanced hygienic experience, but a sense of self-indulgence from start to finish. It also offers a range of completely automated, easily adjusted functions to transform the bathroom into a relaxing, life-enhancing space — without compromising effectiveness, proficiency, or healthfulness.
Technologically and environmentally-sound, the SpaLet AT200 dual-flush smart toilet is WaterSense-certified for providing high performance with a dual-action flushing system that uses less water than the average toilet. With its 1.32 gallons per flush (gpf) for solid waste and .92 gpf for liquids, this smart toilet uses more than 40 percent less water than standard 1.6 gpf models in its low flush mode.

For superior personalized cleanliness, the SpaLet AT200 dual flush smart toilet also includes a fully-automatic, five-position cleansing wand, with three adjustable water temperature settings, and six pressure options.

All cleansing functions are enabled by a sensor as soon as the user sits down on the temperature-controlled warming seat. When the user departs, the lid closes and the toilet automatically flushes. The SpaLet AT200 incorporates a soft night light in the bowl and in the area around the feet, conveniently illuminating the base of the toilet and the inside of the bowl. A sleek metal remote control is also included to add a unique and high-tech experience.
DXV also offers the SpaLet AT100 bidet seat, which brings the luxury and benefits of the stand-alone bidet to the standard toilet by using the familiar refreshing action of water as a soothing and hygienic personal cleansing system.
With their beautifully considered aesthetics and state-of-the-art technology, both the SpaLet AT200 and SpaLet AT100 use the soothing action of warm water as a refreshing and sanitary alternative to toilet tissue. Both feature two separate nozzles for natural and convenient front and rear cleansing. Nozzle positions (including oscillating options), spray volume and strength, and water temperature are all adjustable by easy-to-use remote control, allowing for a completely individualized cleansing experience. There is also a massage feature and an efficient built-in warm air dryer for use after washing.
The list price for the SpaLet AT200 smart toilet is $4,200, and for the SpaLet AT100 bidet seat is $995. Both luxury items are available through an exclusive network of DXV showrooms across North America.
For more information, visit www.dxv.com or call (800) 227-2734.
ABOUT DXV
DXV is a portfolio of luxury bath and kitchen products that celebrates the distinguished 140-plus-year heritage of American Standard. DXV reimagines the most influential design movements during that time: Classic (1890-1920), Golden Era (1920-1950), Modern (1950-1990), and Contemporary (1990-Present). DXV is part of LIXIL, a global leader in housing and building materials products and services. The DXV Showroom at Flatiron is open to explore our luxury products and collections. Learn more at www.dxv.com, or follow us at facebook.com/dxv, twitter.com/DXV, youtube.com/DXVLuxury, pinterest.com/dxv, instagram.com/dxvluxury.
ABOUT LIXIL
LIXIL is the most comprehensive and connected global company in the housing and building industry, delivering human-centric innovation that enhances people's living spaces – we call this Living Technology. Delivering core strengths in water, housing, building and kitchen technologies, our brands including LIXIL®, GROHE®, American Standard Brands, DXV®, INAX® and Permasteelisa® are leaders in their industries and regions. Operating in more than 150 countries and employing more than 80,000 people, we bring together function, quality and design to provide better living solutions to the world today and for future generations. Learn more at www.lixil.com and follow us at facebook.com/lixilgroup.
DXV®, Lyndon®, Pop®, Rem®, AT100®, AT200® and SpaLet® are registered trademarks of American Standard Brands.
Lowell™ is a trademark of American Standard Brands.
WaterSense® is a registered trademark of the U.S. Environmental Protection Agency (EPA).
###