ActiClean Toilet from American Standard Stays Sparkling Clean with the Press of a Button
Jun 28, 2017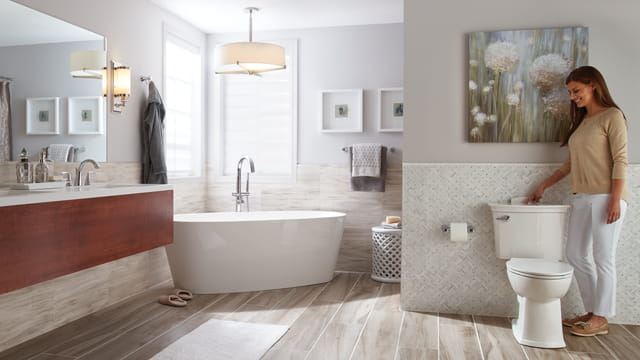 SAN DIEGO, PCBC (June 28, 2017) ― Keeping a sparkling clean bathroom just got easier with the American Standard ActiClean self-cleaning toilet. The ActiClean system is the toilet that cleans itself, combining the power of revolutionary VorMax flushing technology — which delivers the cleanest flush ever engineered — with a fully integrated self-cleaning system. Simply press a button, walk away, and let the toilet do the rest – it's that easy.
The inventive technology of ActiClean resulted in it being named a 2017 Parade of Products winner by PCBC, for its innovation, practical application and design.
This pioneering ActiClean toilet provides the luxury of a toilet that cleans itself – featuring a simplified, user-selected activation system – at a price point favorable to a broad range of homeowners.
"The innovative ActiClean toilet was created based on consumer research. We found that consumers are excited about the idea of owning a self-cleaning toilet," said Maha El Kharbotly, chief marketing officer for LIXIL Americas. "Our incredible product, engineering and design teams rose to the challenge, taking the groundbreaking VorMax flushing technology a step further by adding a cleaning component, and creating a self-cleaning system that is simple to use and maintain."

ActiClean offers the choice of a one-minute Quick Clean or a 10-minute Deep Clean. When activated, cleaning solution is released into the bowl with the powerful VorMax jetted force and soaks for the selected amount of time. Then the system automatically siphons and rinses the bowl with water. The cleaning system runs independently from the normal toilet flushing operation, meaning the toilet will always flush, even if the cleaning cartridge or batteries have run out.
To offer additional ease-of-cleaning, the toilet includes a CleanCurve Rim that omits the rim cavity and holes inside the bowl where dirt and buildup can get trapped and hide. The entire ActiClean toilet bowl and tank feature EverClean, the brand-exclusive permanent finish that inhibits the growth of stain and odor-causing bacteria, mold and mildew on the surface.
The high-efficiency VorMax flush uses a single powerful jet of 1.28 gallons of water per minute (gpm) to scrub the entire bowl and has been independently verified to clean the bowl two times better than conventional toilets*.

The versatile design of the ActiClean toilet coordinates with numerous American Standard fixture and faucet collections. Favorite pairings include the Coastal-Serin freestanding bathtub with Contemporary round floor mount tub filler, plus the Studio undercounter bathroom sink with Fluent widespread faucet, for a complete bathroom suite.
The list price for an ActiClean self-cleaning toilet is $608. Each toilet comes packed with one cleaning cartridge and a set of four AA batteries in the carton, along with the toilet tank, bowl and seat. Replacement American Standard cleaning cartridges have a list price of $14.99. The ActiClean toilet is available at select kitchen and bath showrooms nationwide.

For more information on the ActiClean toilet cleaning technology from American Standard, visit www.americanstandard.com or call (800) 442-1902.

*Source: IAPMO R&T Labs Test Report No. 109-141486-002, comparing VorMax against conventional under-the-rim-water-dispersal toilets from major retailers.


ABOUT AMERICAN STANDARD BRANDS
American Standard Brands make life healthier, safer and more beautiful at home, at work, in the community and throughout the world. Offering total project solutions for residential and commercial customers around the world with respected brands such as American Standard®, Safety Tubs®, Crane Plumbing®, Eljer®, Fiat® and Decorative Panels International®. American Standard Brands is part of LIXIL, a global leader in housing and building materials products and services. Learn more at www.americanstandard.com, or follow us at facebook.com/AmericanStandardPlumbing, twitter.com/AmStandard, youtube.com/AmericanStandard01, Pinterest.com/amstandard, Instagram.com/american_standard.

ABOUT LIXIL
LIXIL is the most comprehensive and connected global company in the housing and building industry, delivering human-centric innovation that enhances people's living spaces – we call this Living Technology. Delivering core strengths in water, housing, building and kitchen technologies, our brand portfolio including LIXIL®, GROHE®, American Standard Brands, DXV®, INAX® and Permasteelisa® are leaders in the industries and regions. Operating in more than 150 countries and employing more than 80,000 people, we bring together function, quality and design to provide better living solutions to the world today and for future generations. Learn more at www.lixil.com and follow us at facebook.com/lixilgroup.

ActiClean®, CleanCurve®, EverClean®, Fluent®, Right Height®, Serin®, Studio®, and VorMax® are registered trademarks of American Standard Brands.

Coastal™ and Contemporary™ are trademarks of American Standard Brands.

WaterSense® is a registered trademark of the U.S. Environmental Protection Agency (EPA).

MaP report conducted by Veritec Consulting Inc. and Koeller and Company.

###