American Standard Tub with Fold Over Edge Offers Elegant Solution for Custom Finished Alcove Baths
Jan 9, 2018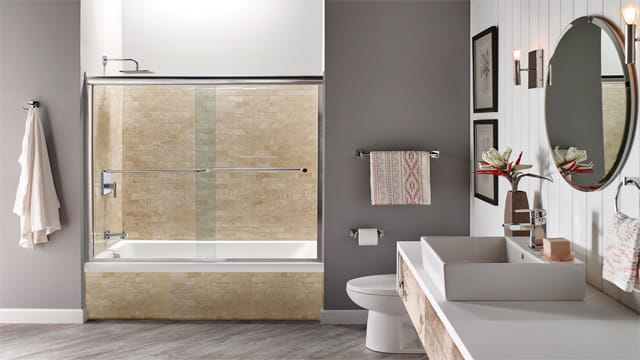 ORLANDO, KITCHEN & BATH INDUSTRY SHOW (January 9, 2018) ― Showcasing clean, modern lines, the new American Standard Studio Bathtub with Fold Over Edge allows for simplified installation of customized alcove tubs in home remodels.
Offering a deep, roomy bathing well with integral lumbar support, this minimalistically styled Studio tub provides extra comfort to the bather, as well as improved safety with its textured bathtub floor. The convenient fold over edge and sleek, apron-less design allow the front apron to be finished to match the décor of the bathroom.
To simplify retrofit installation, this tub is offered in remodel-friendly sizes to fit a standard alcove or any new construction applications. It includes integral three-sided tile flanges to prevent water seepage, creating a water barrier and making installation easier. Its high-gloss acrylic construction with fiberglass reinforcement provides durability and lasting shine.
Reflecting sleek, geometric styling, this beautifully tailored tub is designed to complement the existing collection of Studio bath fixtures and faucets, making it easy to build a perfectly coordinated modern bathroom setting.
The Studio Fold Over Edge bathtubs are available at kitchen and bath showrooms nationwide. List prices range from $815 - $820.
To learn more, visit americanstandard.com.
###
FOR MORE INFORMATION:
Nora DePalma, O'Reilly DePalma
For LIXIL Americas - American Standard, DXV, GROHE
(770) 772-4726
nora.depalma@betterpr.com

ABOUT AMERICAN STANDARD
American Standard makes life healthier, safer and more beautiful at home, at work and in our communities. For more than 140 years, the brand has innovated and created products that improve daily living in and around the bathroom and kitchen for residential and commercial customers. It has been recognized with more than 35 product innovation and design awards in the past five years. American Standard is part of LIXIL, a global leader in housing and building materials products and services. Learn more at americanstandard.com, or follow us at facebook.com/AmericanStandardPlumbing, twitter.com/AmStandard, youtube.com/AmericanStandard01, Pinterest.com/amstandard, Instagram.com/american_standard.

ABOUT LIXIL
LIXIL is a global leader in the housing and building industry. Our unique portfolio spans everything from technologies that revolutionize how we interact with water in our daily lives, to a full lineup of products and services for housing and major architectural projects. Delivering core strengths in water, kitchen, housing, and building technologies, our brands including LIXIL, American Standard, GROHE, DXV, INAX, and Permasteelisa are leaders in the industries and regions in which they operate. LIXIL operates in more than 150 countries and employs more than 70,000 people, bringing together function, quality, and design to make people's lives better and more delightful – wherever they are.

Learn more at www.lixil.com, facebook.com/lixilgroup and www.linkedin.com/company/lixil-group.

Studio® is a registered trademark of AS America, Inc.