American Standard Offers NextGen Selectronic Commercial Faucets with Exclusive Hot Water Temperature Limiter
Nov 8, 2017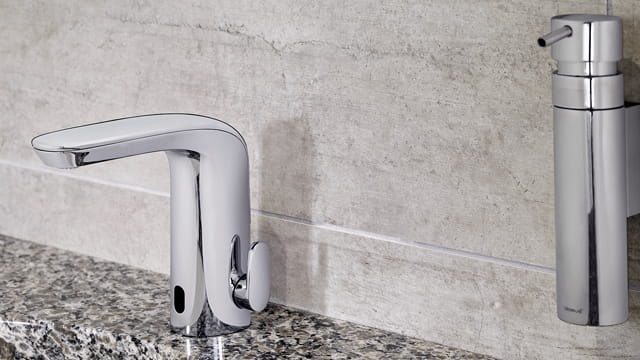 BOSTON, GREENBUILD (November 8, 2017) ― The NextGen Selectronic faucet line from American Standard, part of LIXIL, features a simple, integrated design and exclusive SmarTherm technology that incorporates an ASSE 1070-certified thermostatic hot water temperature limiter into the faucet.
The patent-pending, integrated SmarTherm safety shut-off is ASSE 1070-certified to automatically protect the user from scalding due to a spike in hot water temperature or an interruption to the cold water flow. SmarTherm eliminates the need to specify and install a separate thermostatic mixing valve.
NextGen faucet models are available without mixing, with above deck mixing and with ADM plus SmarTherm.
The integrated design incorporates the electronics in the spout, eliminating the need for a control box below the deck. This shortens the installation time because only the water connections are made under the sink. Facility managers will find this touchless faucet simple to maintain because all serviceable components are easily accessible after removing the faucet cover with one screw.
Its convenient hands-free operation provides a hygienic hand-washing setting employing the brand exclusive Selectronic sensor technology. Power options include the standard CR-P2 lithium battery, PWRX 10-year battery, plug-in and hard-wired AC, or multi-AC power, plus a battery backup.
To learn more, visit americanstandard.com.
###
FOR MORE INFORMATION:
Nora DePalma, O'Reilly DePalma
For LIXIL Americas - American Standard, DXV, GROHE
(770) 772-4726
nora.depalma@betterpr.com


ABOUT AMERICAN STANDARD
American Standard makes life healthier, safer and more beautiful at home, at work and in our communities. For more than 140 years, the brand has innovated and created products that improve daily living in and around the bathroom and kitchen for residential and commercial customers. It has been recognized with more than 35 product innovation and design awards in the past five years. American Standard is part of LIXIL, a global leader in housing and building materials products and services. Learn more at americanstandard.com, or follow us at facebook.com/AmericanStandardPlumbing, twitter.com/AmStandard, youtube.com/AmericanStandard01, Pinterest.com/amstandard, Instagram.com/american_standard.

ABOUT LIXIL
LIXIL is a global leader in the housing and building industry. Our unique portfolio spans everything from technologies that revolutionize how we interact with water in our daily lives, to a full lineup of products and services for housing and major architectural projects. Delivering core strengths in water, kitchen, housing, and building technologies, our brands including LIXIL, American Standard, GROHE, DXV, INAX, and Permasteelisa are leaders in the industries and regions in which they operate. LIXIL operates in more than 150 countries and employs more than 70,000 people, bringing together function, quality, and design to make people's lives better and more delightful – wherever they are.

Learn more at www.lixil.com, facebook.com/lixilgroup and www.linkedin.com/company/lixil-group.

Selectronic® and PWRX® are registered trademarks of AS America, Inc.
NextGen™ and SmarTherm™ are trademarks of AS America, Inc.